Top Russian sniper Sergei Zinovjev to Bruins?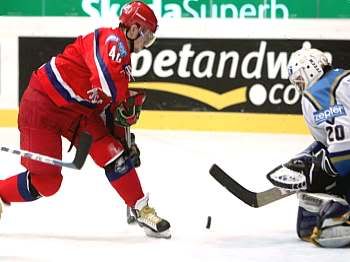 Sergei Zinovjev with Team Russia
A recent item in
russianprospects.com
led me to a report in New England Hockey Journal, stating that the Boston Bruins are interested in bringing
Sergei Zinovjev
back overseas to play in the NHL. Zinovjev was one of the top scorers in the Russian Super League this past season, playing on the RSL's best forward line for eventual League champion Ak Bars Kazan-- a line on which all three players (Zinovjev, Danis Zaripov, and Alexei Morozov) finished in the league's top 5 in points during the regular season. Zinovjev continued his stellar play into the post-season, where in 13 games he put up 17 points (9 goals, 8 assists) and was +11.
From
hockeyjournal.com
:
Back in 2003-04, Sergei Zinovjev registered one assist in 10 games for Boston and 1-2-3 totals in four games with Providence before returning to his native Russia. The B's third-round pick in 2000 showed some offensive power with 15-26-41 totals in 43 games this season with Ak Bars Kazan, and he also scored the game-winning goal when his team captured the Russian League title. Perhaps Boston, which was desperate for offense most of the second half of the 2005-06 season, would be interested in bringing back the restricted free agent.

"With the way the game's played, he's a guy we're going to have to look at bringing back over here," said (interim GM) Jeff Gorton. "He's obviously pretty well paid in Russia, so it would take a lot. He's definitely somebody we'd have to consider under the new game to bring over."
An earlier prospect profile of Sergei Zinovjev in NE Hockey Journal, dating back to 2002, had
this assesment
of Zinovjev's talent:
Smallish but skilled Russian forward... Considered the best skater on Team Russia's 2000 World Junior Championship squad, Zinovjev played the tournament with a hairline fracture in his foot yet still led his team in scoring... In 2001-02, he became the youngest forward to be named to Russia's national team, and he had a solid scoring season with Spartak Moscow at the top level of competition in his country. Zinovjev is considered a tremendous skater with outstanding lateral agility and excellent on-ice vision.
I suppose this all sounds pretty great, if you're a Boston Bruins fan. Since the time that scouting report was written, however, Sergei Zinovjev has had some curious troubles involving illegal substances (archive stories culled from Russian Prospects):
March 2nd, 2006
:
Sergei Zinovjev was cleared today of the doping charge by the Russian Hockey Federation's anti-doping enforcement body. Apparently, the banned substance in question that was discovered in Zinovjev's body was testosterone, and while the amount found violated the set Olympic standards, it could have been produced in the body naturally.

The head of the anti-doping committee, Nikolai Durmanov: "A test showed a heightened level of testosterone in Zinovjev's system... we followed all the rules and procedures during the testing, and the results do not give us any reason to accuse the player in using steroids. However, even with this result, we are announcing that we will continue to monitor him. We will carefully evaluate the player, checking him another couple of times throughout the rest of the season. On the 4th of March, Sergei can get back on the ice for the game against Lokomotiv."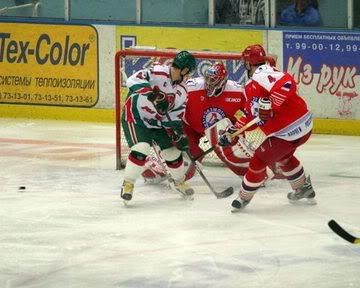 Zinovjev (in white) tries for a tip-in
Then there was this, from
September 3, 2004
:
In the end of April, practically right before the 2004 World Championships, Russian hockey world was shaken by a drug scandal, which resulted in removal from the national team of Sergei Zinovjev for smoking marijuana. Later, the forward was disqualified from playing in the Super League, forced to miss all preseason games.

Sergei Zinovjev: "I was framed (by) Anatoly Bardin, the general manager of the national team. Apparently it wasn't adventageous for him to have a player by the last name of Zinovjev playing for the national team at the World Championships. My removal needed to be explained somehow, so they wrote down "marijuana". But I never used the drugs. I never had a positive drug test with any of the clubs I played with. Do you really think that I, knowing regarding my invitation to the national team, would compromise my reputation like this?"

Anatoly Bardin: "I am not a representative of the drug testing agency! This is a boy, who is just over 20 years of age, who let down not only our team, but the entire nation! Now he is saying that he never smoked any marijuana and I framed him! Maybe he smoked up again?"
That last line cracks me up-- "Maybe he's been smoking dope again!"
By the way, you can
click here
for another version of the Zinovjev "marihuana" story, though you'll have to be able to read Polish.
(Editing note: The RSL salary cap article that was originally a part of this post has been moved to here)