Where No Maple Leaf Has Ever Gone Before
Ak Bars sweeps Avangard in three games to win Russian title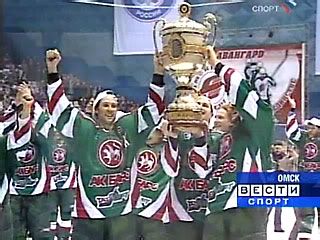 In a game that was finished earlier today,
Ak Bars Kazan
defeated
Avangard Omsk
in Omsk, 3-1, to complete a three-game sweep of the finals and capture the 2006 Russian Super League championship. Leading the way for Ak Bars in the Game Three victory was Alexei Morozov (Pittsburgh Penguins - RFA), the top scorer in the Super League this year.
Morozov scored Ak Bars' first goal of the game and then assisted on Ak Bars' second goal, with both scores coming in the second period after Avangard took an early 1-0 lead.
AHL playoff picture finalized
On the final day of regular-season play in the AHL, the Lowell Lock Monsters defeated the Providence Bruins today in Lowell, 7-3. The loss by Providence prevented them from overtaking the Manchester Monarchs for third place in the AHL's Atlantic Division, meaning the Bruins will enter the divisional playoffs as the fourth seed and face top-seeded Portland.
Game recap from Lowell site
Game recap from Providence site
The Hartford Wolf Pack, by virtue of their second-place finish in the division, will host their first-round series against Manchester. The best-of-seven series starts with Game One in Hartford on Tuesday, April 18th, and Game Two in Hartford on Wednesday, April 19th.