Defenders of the Faith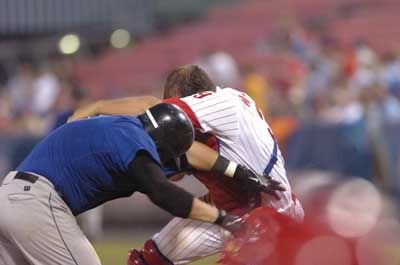 Eliezer Alfonzo (Defenders) and Jeff Winchester (Phillies) do battle
The Connecticut Defenders lost to the Reading Phillies in Reading last night, 3-0, in a game that saw nine players ejected (four from the Phillies and five from the Defenders) after an on-field brawl in the sixth inning.
Here's how the
Reading Eagle's
Mike Drago described the action in this morning's paper (the photo above was swiped from Drago's
Keeping Score
blog):
Things got wild in the top of the sixth, when Scott Mathieson clipped Defenders catcher Eliezer Alfonzo in the lower left leg with an 88 mph fastball. It was the third Connecticut batter hit during the game, which seemed to be one too many for Alfonzo's taste.

He immediately turned toward Reading catcher Jeff Winchester. The two exchanged words, then went at it. In a heartbeat they were tangled on the ground, joined soon after by all their teammates.

"He turned around and started popping off," said Winchester, who has been with Reading for just nine days. "He's a catcher, and I'm sure he knows when things happen, usually it's a joint decision. I know there's a little something going back and forth between these teams, and I just kind of walked into it."

Mathieson, a former hockey player growing up in western Canada, was right in the middle of the skirmish, taking as good as he was giving. He was thrown to the ground once, and was the target of several haymakers.

The fight lasted but 40 seconds, but it was packed with some fierce action and left it's share of wounds, including a cut behind the ear of Connecticut shortstop Jake Wald, who had to be taken to the hospital for stitches.
The Defenders ended up having to insert three pitchers in the game as position players, at first base, second base, and left field. If the brawl wasn't enough, the game was further delayed by rain for almost an hour in the eight inning.
This wasn't the only interesting game this week for the Defenders, who still lead the Eastern League's Northern Division (by one game over the Portland Sea Dogs) despite sitting at the very bottom of the league in runs scored. A few days earlier, on Monday, the Defenders lost at home to the New Hampshire Fisher Cats,
23-9
.