Pack Level With Portland
Following a 4-3 overtime loss in Portland on Saturday, the Hartford Wolf Pack rebounded to beat the Pirates on Sunday, 4-2, knotting up their Atlantic Division Finals playoff series at two games each. After a few days off, the two teams will face off again in Portland for Game Five of the series on Thursday.
Any New Haven hockey fans finding themselves homesick for the architectural disaster that was the old New Haven Coliseum should make a pilgrimage to Portland's
Cumberland County Civic Center
. The CCCC is an awkward building about the size and shape of an IHOP, shoehorned into one narrow block on a steep hillside in downtown Portland. Like the
New Haven Coliseum
, ugly concrete roof supports dominate the view in all four corners of the arena. The seating areas have shallow stairsteps that are tricky to climb even if you haven't been drinking, and there are slopes and angles in odd places along the concrete floor for no obvious reason other than to fuck you up. The lobby and concourse are both fairly tiny, and there are only two sets of bathrooms inside the arena, creating long lines along with a solid shoulder-to-shoulder mass of humanity during intermissions if there's a decent-sized crowd like the one at Saturday's game (almost 5500 fans in a building that holds somewhat more than 6000).
Oddly enough, the Civic Center web site has a
slide show
of the place as it was being constructed, possibly to serve as a warning to other cities on what can happen when you allow mental patients to build a hockey arena.
Portland's Bruno St. Jacques had the game-winning goal in Portland's
4-3 overtime win
on Saturday, his goal coming not even three minutes into the first overtime period. St. Jacques, who was highly-touted as a prospect while he was in the Philadelphia organization a few years back, then took a belly-flop at center ice while the rest of his teammates piled on.
Alexandre Giroux scored twice for the Wolf Pack, and Dan Girardi had a goal and two assists.
Hartford had taken a 2-1 lead early in the second period and were playing pretty well at the time. Not long after Portland tied the game at 2-2, however, Dale Purinton took consecutive minor penalties (at 8:19 and 10:36 of the second period), forcing the Pack to play back on their heels and taking away whatever momentum they might've had. Portland scored during the second power play to take a 3-2 lead, and even though Hartford came back to tie it on a third period goal by Alexandre Giroux to send the game into overtime, Purinton's two penalties were a big turning point in the game.
Along the way, Alexandre Giroux had three breakaway tries in the first and second periods and failed to convert on any of them, which has pretty much been the pattern with him all season. Two of the breakaways were almost identical to each other-- beginning with a two-line pass straight up the ice, splitting two Portland defensemen, while Giroux was streaking down the wing all alone into the Portland zone.
The Pirates attempted to pull off a "white out" for both of this weekend's games, asking every fan to wear white t-shirts, but they didn't even come close on Saturday, despite the near-sellout crowd. Nearly half the people in the crowd (including fifty or more Wolf Pack fans) wore their jerseys instead; I wasn't at the Sunday game, but with a reported crowd of 3273, I'm sure that it was no better. I think if teams are going to try to make the "white out" thing work (though it's a pretty dumb idea, anyway), they should hand out blank t-shirts at the door.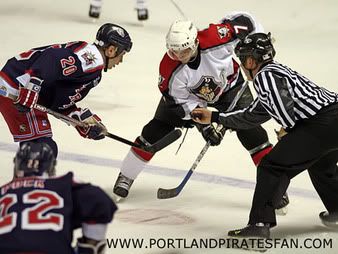 Dwight Helminen and J.B. Bittner (Photo credit: some freaked-out Portland Pirates Fan, apparently)
With their backs to the wall, down two games to one and facing three more games in Portland, the Wolf Pack pulled off a
4-2 victory
on Sunday.
The Wolf Pack's Greg Moore, a former Maine Black Bear, scored Hartford's third goal of the game late in the second period, after Marvin Degon was nearly deposited into the players' bench as he sent the puck up ice. Lauri "Corporal" Korpikoski added an insurance goal for the Wolf Pack early in the third period.
The game's final buzzer was preceeded by a bunch of fisticuffs at the 19:59 mark, according to the Chicken Hawk's call on the radio, though no fighting majors were handed out (only roughing minors to four different players). In what was probably an amusing sight considering the circumstances, Hartford's enforcer, Martin Grenier (a defenseman), took the final faceoff for the Wolf Pack.
Brad Smyth, one the Wolf Pack's best goal-scorers, was a healthy scratch in both of this weekend's games.