Rock Cats win 6th in a row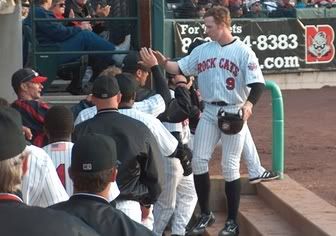 #9, Doug Deeds
The New Britain Rock Cats notched their sixth victory in a row yesterday,
defeating
the Connecticut Defenders, 7-5, on the strength of a six-run third inning. Doug Deeds and Jose Morales each had 2 RBIs for New Britian in the third.
New Britain had to hang on for the win when the Defenders came back with 3 runs in the top of the ninth, off reliever Tristan Crawford. Prior to Crawford's shabby outing, the Rock Cats' pitching staff had been mowing 'em down recently, carrying a 1.14 team ERA over the previous seven games.
New Britain is currently in third place in the Double-A Eastern League's Northern Division, while the Defenders (formerly known as the Norwich Navigators, before
changing their name
after the end of last season) remain in first place. The Defenders have been benefitting from great pitching so far this year, with an EL-leading team ERA of 2.73.
Cripple fight!
Meanwhile, the somewhat silly
front-office rivalry
between the two teams, while hardly a blood feud, continues to simmer. Will Hernandez, a sports reporter for the Norwich Bulletin who also keeps a separate blog on the Defenders, had this to say in
a post
titled "New Britain antics" from about a week ago:
The New Britain Rock Cats are really going out of their way to not recognize the Connecticut Defenders. In the Rock Cats media guide, the Defenders are simply recognized at the Defenders, no Connecticut attached. On the Rock Cats schedule "DF" appears instead of CT or maybe CTD. Even the standings on the Rock Cats' website have been altered to say Defenders.

I kind of find this whole thing childish on New Britain's part. Those guys draw more than 300,000 fans. I don't think the Connecticut Defenders are trying to take away from that fan base, they are just trying to strengthen their own. There is no reason for New Britain to stoop to juvenile level when it comes to something like this. New Britain should want the Defenders to succeed and build a sort of friendly rivalry. I mean don't all teams in the league want to see the others do well? That would only make sense.
I'll say this to Will-- it's hard to ask for common sense from a team (New Britain) that has 7000 fans showing up for every weekend game, yet only has parking for about 6 cars, but that's your prerogative. Keep fighting the good fight!