Sheffield goes 1-3 in rehab stint
A crowd of 4288 at New Britain Stadium watched as New York Yankees RF Gary Sheffield went 1-for-3 in a rehab stint with the Trenton Thunder earlier tonight, as the Thunder handed the Rock Cats their
second straight loss
, 7-4. Luckily, I wasn't freezing my butt off at the game* (game-time temperatures dipped into the 40s), instead listening to the internet feed at home in-between watching Buffalo lose one to Carolina on OLN.
Sheffield, batting third in the order as Trenton's DH, stroked the Thunder's first hit of the game, a ground-ball single up the middle in the first inning. In the third inning, on a 3-2 count with two out and the bases loaded, Sheffield drove in a run with a sacrifice fly to deep left that was struck solidly but was held up by the wind that was gusting near 25 MPH.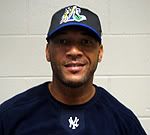 Sheffield struck out on a curveball in the 4th, and grounded out in the sixth before being pinch-hit for in the top of the 8th. Sheffield then left New Britain Stadium under escort before the game ended, on his way to rejoin the Yankees up in Boston, though he did sign some autographs prior to the game.
*also known as "
Deadspin
ning-it"-- reporting on games that you didn't actually see in person