Rehab Doll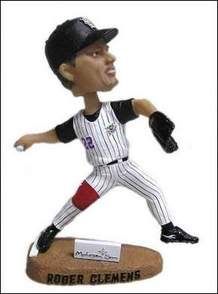 Roger Clemens rehab bobblehead
From the Connecticut Defenders
web site
:
The Connecticut Defenders will be giving away special bobblehead dolls to the first 1,000 fans through the gates on select game days during the 2006 season. The "Rehab" bobbleheads will feature Major League players that appeared in a Norwich uniform while on rehabilitation assignment. Included in this series are:

Roger Clemens - The six-time Cy Young Award winner made one start for Norwich during the 2002 season, against the Binghamton Mets, while rehabbing a strained right groin. Clemens pitched seven innings and allowed just one run while striking out seven.

Andy Pettitte - Pettitte appeared in one game with Norwich in 2002 while rehabbing a strained left elbow. He pitched 6.1 innings against the Reading Phillies and allowed just one run.

David Cone - Cone made two starts with Norwich in 1995 while rehabbing from an aneurysm in his right shoulder. In his first start, Cone allowed one run in four innings with seven strikeouts against Binghamton, and then followed that up with six shutout innings and six strikeouts versus New Britain.

Bernie Williams - Williams played three games with Norwich in 1998 when he was rehabbing a sprained right knee. Williams played centerfield and hit leadoff in all three games, which were in Portland against the Sea Dogs. Williams went 6-11 in the three games, with two home runs, five RBIs, and six runs scored.
The Roger Clemens bobblehead giveaway was last week, on May 23rd against New Hampshire.
Greg's Ct. Defenders Blog
has a recap of the giveaway.
Of course, no one's "Rehab Bobblehead" collection would be complete without these two: