Sucks To Be A Duck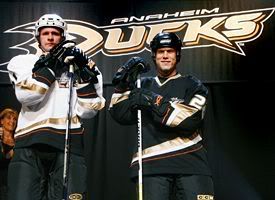 Try not to look stupid... OK, try harder
James Mirtle
calls attention to the unspectacular
new colors
that the Anaheim Ducks will be wearing next season, and I'll agree that, while not a complete disaster, they don't look so hot, either.
However, the NHL Ducks weren't the only Ducks to unveil new designer duds this week. Presenting...
...your 2006 Oregon Ducks!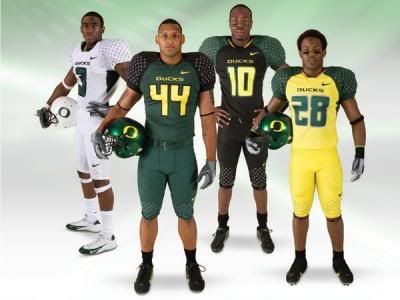 What the cluck?!?
Sez
GoDucks.com
,
The University of Oregon football team will utilize a new look in 2006 that promises to be unique in the world of college football as well as striving to enhance the performance of those players wearing them.

The Ducks' game-day apparel will consist of four different colors of jerseys and pants to go along with three different helmets Oregon is expected to wear at some point during the coming season.
I guess if having more helmets than you know what to do with doesn't seem stupid enough already, then wearing jerseys that look like a cross between
"Rollerball"
and "The Return of The Fly" would be no big deal, either.