The Tverdovsky Dynasty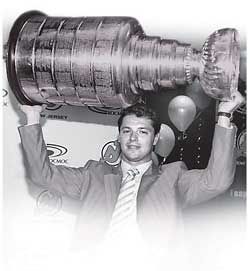 Oleg Tverdovsky with the Stanley Cup, NJ Devils, 2003
Even though he didn't play much at all in the Finals against Edmonton this year (appearing in one game in the Finals, five in the playoffs all together), Oleg Tverdovsky still stands as a member of this year's Stanley Cup champions, the Carolina Hurricanes.
Tverdovsky also won the Stanley Cup with the New Jersey Devils in 2003, meaning that (with 2005 being the lockout year), Oleg has been on two of the last three Stanley Cup-winning teams.
Tverdovsky winning the RSL championship with Omsk, 2004
In between winning the Stanley Cup in '03 and '06, Tverdovsky played two seasons with Avangard Omsk over in the Russian Super League. Avangard Omsk won the Russian title in 2004, making it three years out of four that Tverdovsky's team has won its League's championship.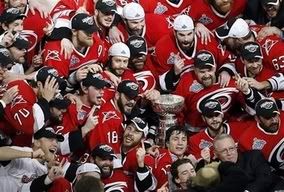 Tverdovsky (#70) and the 2006 Stanley Cup champion Hurricanes
As the RSL champs in '04, Avangard qualified for the IIHF's European Champions Cup tournament (a tournament that includes the title-holders from six different European leagues) in 2005, which Avangard then won. The ECC tournament takes less than a week to play out, and is hardly the two-month-long grind that the Stanley Cup playoffs are, so depending upon how you want to look at it, Tverdovsky has won four championship Cups (or three) over the last four years running.
Tverdovsky made mention of this feat in
Sport Express
, after Carolina's victory last week: "It is unbelievable to me that in the last four years, my teams have won four finals. Maybe this will sound cocky, but let's see if anyone else can repeat this!"
Tverdovsky, who was born in Ukraine, is one of handful of Soviet-born/Russian players to have been on two Stanley Cup-winning teams as a player. Sergei Fedorov and Igor Larionov each won three Cups (over six years) playing for the Detroit Red Wings, while Slava Fetisov won two as a player with Detroit and one as a coach with New Jersey.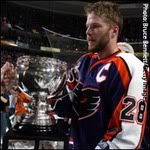 Boyd Kane, seen with the captain's "C", like it or not
In what remains one of the world's enduring mysteries (along with crop circles, Easter Island, and Stonehenge), as was commented on
here earlier
, "Void" Kane has been on the AHL Calder Cup championship team two years in a row-- with the Philadelphia Phantoms in '05 and with Hershey in '06.