Andrei Nazarov Needs A Story He Can Sell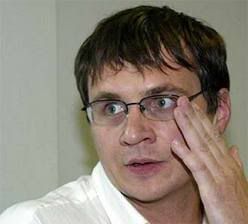 Andrei Nazarov (Sport Express photo)
When Andrei Nazarov announced his retirement a few weeks ago, I gave him somewhat of a
gentle tribute
as a send-off, saying that I hoped to hear more from him soon.
Not even two days later, though, Nazarov gave an interview in
Sport Express
, in which he claimed that "99% of all NHL enforcers" used steroids. I gave the story only a small mention, because the whole thing seemed trashy to me. Little did I know that it would become such a
huge story
in the North American media. The wolves were turned loose, and Nazarov and his accusations took a pounding (so to speak).
Nazarov is in
Sport Express
again today, defending his original story for the second or third time, and presenting new arguments to back up his original claims.
Nazarov's claim that the NHL players were given advance notice of the "random" tests during this past season was scoffed at by the NHL's Bill Daly, who suggested that Nazarov didn't know what he was talking about because he wasn't in the NHL last season. Nazarov did start the '05-'06 season in the NHL with Minnesota, however, and he says that the team doctors talked to the players about drug testing "in one of the first few days after we arrived at training camp, in September. We attended a special meeting, where two official League doctors gave us detailed information about the different methods used to detect doping, how long it took to flush out of your system, and so on." Nazarov goes on to say, "Even in September, the doctors had recorded the possible dates for the drug tests-- one set of dates for Olympians, another set for non-Olympians. As a result, we knew the plan was for the non-Olympians to be tested in January."
Nazarov then brought up the oft-cited rampant abuse of Sudafed by NHL players ("Six Sudafed tablets, and then you can run the entire game without stopping"), mentioned marijuana use as being common among players, and pointed to Jose Theodore's testing positive for Propecia as an example of players using hair-restoration products to mask the steriods in their blood stream. I'm pretty sure that the speculation about Theodore was debunked almost as soon as it began, if only for the fact that Theodore's a pretty slender guy.
The only observation that I feel like adding at this time is to point out how much Nazarov is beginning to look like Paul Westerberg: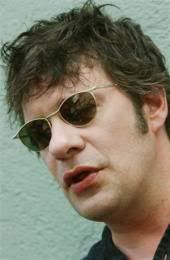 Well, there is actually one other positive thing I can take from this story, stemming from when I was doing my usual small amount of research while putting this post together (I'll admit it-- I had to look up the right way to spell "Propecia"). I got lucky enough to stumble onto this caricature of Jose Theodore, from
Le Cornichon
:
Stop it, please! I'm
dyin'
over here!