Fedor Fedorov: "If I were Czech, I'd still be in New York"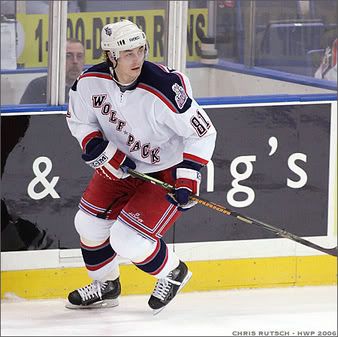 Fedor Fedorov (Chris Rutsch photo)
How much Fedor Fedorov news in one week is too much? If you're talking about a Fedor Fedorov interview in Sport Express, which SE had promised while announcing Fedor's signing with Lokomotiv Yaroslavl a day earlier, that's a golden nugget just too good to pass up.
And so, here's the
interview
, which took place only hours before Fedor was to leave Detroit for Moscow...
Fedor, why Lokomotiv, exactly?
After talking it over with my agent, we decided that Yaroslavl's offer was the best one, both for the length of the contract-- one year-- and the dollar amount. It was also important that Lokomotiv has an authoritative head coach, in Vladimir Yurzinov. Plus, this team isn't very far from Moscow, and has the best arena in Russia, possibly in Europe.
How many offers from other Russian Super League teams were there?
This isn't a question for me, but for my agent. Though, I heard that Lokomotiv's offer wasn't the only one.
Is it an insurance contract, or guaranteed?
I'm not good with these details. I will say that I will spend the entire upcoming season with Lokomotiv.
Are you hoping to play for the National Team at the World Championships in Moscow?
That's definite! I very much want to return to the National Team.
Let's talk about what happened overseas. Which organization would you have preferred to remain with-- the Rangers, or Columbus, who at the tail end of last season acquired your rights?
Consider me as part of the Lokomotiv Yaroslavl organization. As far as the NHL is concerned, my contract with the Rangers had run out. So now, I am a free agent overseas.
So, you have closed the book on the NHL?
As far as this upcoming season, yes.
Your father, Victor Fedorov, said that you had no lack of offers from the NHL...
Yes. By accounts, there were offers from Columbus, if I am not mistaken, from Montreal, from a number of other teams... but none were agreeable. I then turned my priorities towards playing in Russia.
As you think back, what prevented you from succeeding with the Rangers?
A little bit of everything! Confidence from the coaches, playing time, and other.
Did you somehow underachieve?
I don't see it that way. In general, I don't understand why the Rangers even took me. They never gave me a serious chance there.
It's no secret that the Rangers rely a lot on Jaromir Jagr. If you were Czech, do you believe that right now you would be preparing for training camp with New York?
Most definitely. Basically, I'm a player, not a politician. This is likely one of my problems.
Are behind-the-scenes politics, and you put it, more prevalent in the NHL than in the Russian Super League?
It's pretty much the same everwhere. But, I'll agree, in the NHL it's especially so.
Fedor Fedorov (#81, middle) on the same Metallurg team with Evgeni Malkin (#71, left) in 2005
It's been said that your opportunity with the Rangers was ruined by the incident in Tampa, where after a game you and some other Rangers got into a fight in a night club. You became the center of a widespread press scandal.
That's possible. The tabloid press made a mountain out of a molehill. I was not the guilty party in that incident; in fact, I was the victim. This you can confirm with any of my former team-mates. However, the next day the entire matter was relayed to the GM of the Rangers, and it went on from there..
Does a return to the NHL-- not necessarily this season, but in the ones that follow-- remain in your plans?
Yes. But now, the main thing is for me to forget about last season, and to work hard.
Between the AHL and NHL, did you gain anything from last season?
I don't know. It's difficult to make progress in the AHL. You have a lot of coaches there, whose purpose is to try to tear down your style of play. I consider Vladimir Yursinov to be an expert in this sense, because he doesn't tear you down, but tries to teach, to help you progress further.
It's been said that the coaches overseas communicate better with their players. Would you agree?
I won't generalize. Coaches are different.
Was it ever the case overseas where the coach neglected to tell you that you were a scratch until after you had suited up and taken warm-ups, only to tell you then that you were being scratched?
Yes, that did happen with me.
In the NHL, or in the minors?
Both-- above, and below.
It's been said that this also happened to you with Team Russia...
I don't recall. Usually, I'll erase such bad things from my memory. That's why I am leaving for Yaroslavl, in order to start a new page in my career.