Louie The Lock Monster's Eulogy
You'll never work in this town again!
With the AHL's Lowell Lock Monsters passing away into history-- the Lowell hockey franchise now being affiliated with the New Jersey Devils and called the Lowell Devils, complete with creepy-red-naked-guy-hiding-his-package-behind-the-letter-L logo (see below)-- so, too, must the Lock Monsters' mascot be relegated to the dust bin of oblivion.
Dave Pevear of the
Lowell Sun
ponders the possibilities, as he wonders, "What happens to Louie?"
The frightful rumor out there is that Louie the Lock Monster lies in an uninhabited heap among musty mops in a storage closet at Tsongas Arena.

Oh, the indignity, the cruelty, the awful waste.

Sports mascots are funny critters. Kids adore these large-headed fur balls while still somehow cognizant that dancing purple monsters are not actual card-carrying members of the animal kingdom. Grown-ups in charge of these expensive costumes begin to think of them as too real.

It is sacrilege in the sports business to allow an empty mascot's costume, or an occupied costume minus the head (you mean there is a person under there?!), to be seen in public. "You don't mess with the karma of a mascot," says Kevin Bartl, director of media and team services for the Lowell Devils, speaking out of undying respect for Louie while reiterating the Lowell Devils' official position that Louie is on vacation (not stuck in a closet) and "we're the Devils now."

Louie's vacation from Tsongas Arena may be permanent. Technically, Louie is the property of former Lock Monsters owner Elkim McCallum. Regardless, it seems unlikely that a Louie the Lock Monster could be twisted into a Devils motif, since as one local hockey fan posted on an Internet chat site, "Louie was a good monster, and we all know that good people and monsters don't get along with devils."

As a spectacular send-off for Louie, this same fan suggested, "On opening night, they should have a pit of fire representing hell -- throw the (Louie) mascot costume into it and then have a devil rise from the flames."

If Louie is really still out there somewhere, what is to become of him? Rumors are that the Spinners might adopt Louie. Or the purple creature could become a museum piece.

When the Worcester IceCats franchise moved to Peoria, Ill., before last season to become the Peoria Rivermen, its mascot Scratch became a stray. The Worcester Historical Museum took in the toothy teal-colored cat. A motionless Scratch now is on display next to a cutout of a hockey player into which children place their heads for pictures.

"When the exhibit first opened, a little girl was stunned that Scratch wasn't moving. She burst into tears. I felt so bad," says Vanessa Hofstetter, the museum's exhibit coordinator. "But Scratch is an important part of Worcester's history."

And while AHL hockey will return to Worcester this coming season, Scratch will likely remain a museum piece. The new team, the Worcester Sharks, already has a mascot named Finz.

Ticket-buyers still inquire about Louie, says Bartl. But more important is that there is still an AHL team in Lowell for these ticket-buyers to root for. The Lowell Devils are in the process of developing their own mascot.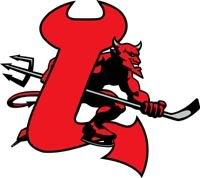 "A lot of people say the devil is menacing and think it will be hard to come up with a mascot that is popular with kids," says Bartl. "But if you looked at the Lock Monster on the uniform logo, with the glowing eyes and big teeth, that was a scary-looking dude. I don't think anybody confused that Lock Monster with Louie. Louie was a big, fluffy dude."

Reportedly, there are two Louie costumes. Some teams buy new costumes every few years, depending on the number of public appearances made by their mascot. Some of these costumes have electronic fans and cooling packs and can cost $10,000 to $15,000, according to Bartl.

"Louie was just Louie -- all blood, sweat and tears," he says.

"Louie is the strong silent type," jokes Ryan Johnston, radio voice of the Lock Monsters, who in his travels as a radio broadcaster for the Lock Monsters and the Lowell Spinners has seen his share of outlandish creatures. "He has always been popular with the kids, which is what he's there for. But as far as his appeal overall, I always though his energy level could have been a little higher. He didn't bring it hard every night."
Plus, I might add, Louie wore a purple-and-white striped diaper that looked stupid and ridiculous. Later, Louie!