Old Fart Told To Stay The F*ck Outta Moscow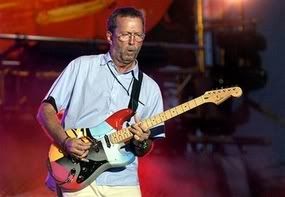 In a fit of good taste that has restored my faith in totalitarian government, the Kremlin has forced Eric Clapton, the guitarist who has done more to ruin modern music than possibly any other man alive, to
cancel
an upcoming concert in Red Square.
The Russian promoter of the concert, Evgeny Safronov, had received the necessary permit on Thursday but-- in a change of heart-- officials withdrew the permit yesterday. Chances are good that in the meantime they had listened to one of Clapton's albums, and realized just how excrutiatingly bad he is.
Clapton's crimes against music include, but are not limited to, A) The 60's hippie band Cream, whose pretentious fake "musicianship" popularized the endless 10-minute "jam" song, complete with frivolous guitar wankery; B) His cover of Bob Marley's "I Shot The Sherrif", which brought reggae to AM radio, thereby ruining it forever; C) His latter-day solo work, which incorporated any number of watered-down, tepid musical styles and brought legitimacy to lameness and commercialism, spawning the re-birth of left-for-dead losers like Phil Collins, Steve Winwood, and (God forbid) maybe even the Eagles, among others.
From engrish.com
The cancellation will mean refunds to ticket-buyers of up to $370 per ticket, which should be plenty to provide a needed boost to the Russian economy and may even be enough to buy a car (or rent Zenon Konopka's for a month or two), who knows. All those who are upset by the sudden cancellation are advised to buy a Teengenerate or Lightning Bolt CD, for chrissakes, and get over it.