Pat Neshek Makes Big League Debut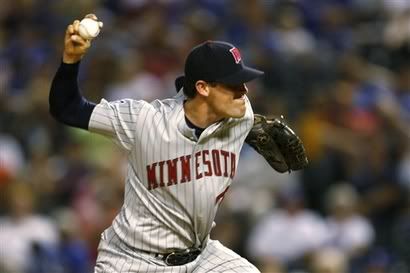 Pat Neshek pitching against Texas, July 7 '06
It's been a while since I've mentioned Pat Neshek on this site, and considering that he became the
Official Pitcher of "Sidearm Delivery"
while pitching for the New Britain Rock Cats last season, I should probably make up for it. (That's a video of Pat's pitching motion in the sidebar of this blog, perpetually slowing down the page load rate of people on dial-up everywhere.)
Pat made his Major League debut on Friday, tossing two scoreless innings in relief against Texas for the Minnesota Twins, the team that Pat (a native of Brooklyn Park, Minnesota)
rooted for
when he was growing up.
Pat's '05 New Britain Rock Cats card
After leading the Twins' minor-league system in saves (24) while pitching for New Britain last season, Pat began this season in Triple-A with the Rochester Red Wings, where he posted a 6-2 won-lost record (14 saves) and a 1.95 ERA, with 87 strikeouts in 60 innings pitched, before being called up to the bigs.
Prior to the season, Pat did an interview with
Red Wings Baseball
, which was sort of a goof, but I'll reprint parts of it here anyway:
RWB.com:
You're from Brooklyn Park, Minnesota. Governor Jesse the Body Ventura-– wasn't he the mayor there?
Pat:
Yes, I voted for him.
RWB.com:
Greatest pro wrestler from Minnesota: Verne Gagne, Jesse Ventura, or "Mr. Perfect" Curt Hennig?
Pat:
Mr. Perfect.
RWB.com:
Who's more of an athlete: a pro golfer or a pro wrestler?
Pat:
A pro golfer, I guess.
RWB.com:
True or false: The Ramones are the greatest American rock band ever.
Pat:
False.
RWB.com:
You usually come out of the bullpen with a crunching, crazy metal-ish song by... what is that band name again?
Pat:
Chimaira.
RWB.com:
Are they a Japanese death thrash band, are they progressive alt-new metal, how do you describe them?
Pat:
It's the new wave of North American heavy metal, they're from Ohio.
RWB.com:
Who are the bands you listen to the most?
Pat:
Lamb of God and Chimaira.
RWB.com:
What's the worst reality show you've ever seen?
Pat:
That "Sweet 16" show on MTV.
While I disagree with Pat on the "greatest wrestler from Minnesota" and "more of an athlete: pro golfer or pro wrestler" questions, and kinda agree on the "Ramones: greatest American band ever" question (though not for the same reasons as him, I'm sure), I'm totally siding with Pat on the "My Super Sweet 16" show, which really does suck.