Stanley Cup Holds 14 Beers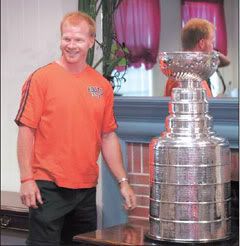 Glen Wesley with the Cup at Camp Lejeune
From the
Jacksonville (N.C.) Daily News
, June 14:
The most important question of the day came minutes after Glen Wesley of the Carolina Hurricanes hoisted the legendary silver cup of Lord Stanley over his head before a crowd of Marines Thursday at Camp Lejeune.

"How much beer does that thing hold?" asked Sgt. Jack Durgala.

It's an easy answer, because many hockey players over the years have used the venerated National Hockey League's championship trophy as a beer mug.

"Actually, it holds 14 cans," replied Mike Bolt, the keeper of the Cup, who only touches it when he's wearing a pair of white gloves. Fingerprints on the silver surface are for champions only.

The Cup itself is 114 years old, but the tradition of allowing members of the championship team to spend some quality time with it began in 1995. Even though it's been going on for little more than a decade, the Cup has journeyed to strange and faraway places.

It's been to every state (except Hawaii) and numerous foreign countries. It's sailed the seven seas and climbed mountains and seen the Arctic Circle. It's been to the movies, on snowmobile adventures and late-night benders. And, of course, it's been fine china for a number of dishes.

"It makes a great ice-cream sundae," Bolt said.