Holy Mackinaw, Blue Claws, Eat 'Em Raw
Oskee wee wee! Oskee wa wa!
While hanging around southern New Jersey last week in pursuit of another hobby of mine (counting power stations), I went to a Lakewood BlueClaws game at First Energy Park to watch the BlueClaws play the Delmarva Shorebirds. The BlueClaws are the affiliate of the Philadelphia Phillies in the low-A Sally (South Atlantic) League, and their stadium, First Energy Park, is about 70 miles due east of Philadelphia.
I've been to 8 or 9 other minor league parks, which probably isn't a lot, but First Energy Park is definitely the nicest I've ever been to. The Rock Cats in their game program like to describe New Britain Stadium as "a mini-Camden Yards", but First Energy Park makes New Britain Stadium look more like a scrap yard.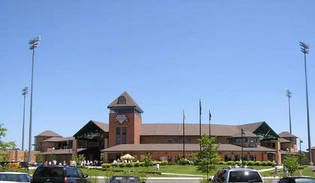 First Energy Park (from Uncle Bob's Ballparks)
First Energy Park has the open design that I like, where you can stand on the concourse or be in a concession line and still look out over the ballfield. There's also a grassy berm beyond the outfield fence where you can sit on the grass and watch the game. Besides the picnic areas and play areas for the kids, which most stadiums have now, there's also a band stage set up behind the center field wall, with live music before the games on the weekends. Some cover band was playing the night that I went, but they were smart enough to include at least one Eddie Money cover ("Shakin'") in their set-- plus the drummer's kick drum cover read "Enjoy", so maybe they were big mid-period Descendents/All fans or something, though I kinda doubt it.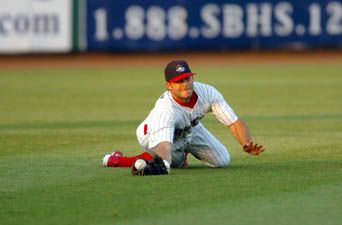 Another good thing about First Energy Park is that it's somewhat in the middle of nowhere and has a huge parking lot, which encourages tailgating-- one of my favorite parts of going to a ballgame, but something that none of the stadiums in Connecticut seem to have. In any case, the BlueClaws have had good success with their ballpark, leading the Sally League in attendance every year (I think it's been 6 seasons so far), topping out at 444,607 fans in 2005.
(The Sally League
web site
, by the way, is a total wreck, though they're proud to point out that it's been recently re-designed. Makes me wonder what it used to look like.)
The best-known former BlueClaws player is Phillies first baseman Ryan Howard, who was the NL Rookie of the Year in 2005 and this year leads the National League with 47 home runs so far. Howard batted .280 with 19 HRs and 87 RBIs in 135 games for the BlueClaws in 2002, making the Sally League All-Star team. For the game I went to, the BlueClaws gave away bobbleheads of pitcher Robinson Tejeda, another former BlueClaw to reach the majors. I'm sure it was a lot better than their
Bob Levy bobblehead
.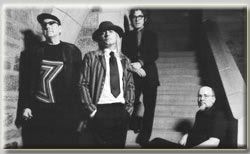 Also way on the plus side: First Energy Park has an upcoming
concert
featuring Cheap Trick (
fukkin' right!
) and Mountain on September 23rd. All that New Britain Stadium gets is some really old hippie guy,
Bob Dylan
or something. Crap!
Since all this talk about bands may end up leading people on Google searches to this site, thinking it's some kind of place for concert information, I'll take this opportunity to inform everyone that former
Brushback
'zine cover models and the fourth or fifth best band in New England, The Queers (above), will be playing at the American Legion in Wallingford, Ct., on
October 26th
.