Malkin Prefers A Taste Of Prison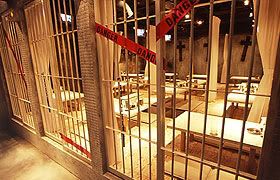 Not the actual place. In fact, I'm guessing it looks more like an Applebee's
I found out about this through a tip on the
Hockey Rodent
message board (though it's from a site that I already read every so often).
This almost seems like some sort of joke:
Hockey Star Malkin Offers Lock-Down Dinners at Prison-Themed Restaurant
, MosNews.com, Aug 10 '06
Russian hockey star Evgeni Malkin has opened a posh restaurant where visitors can enjoy the cozy atmosphere of a typical Russian jail.

Barred windows and ceiling, lamps designed as police flashlights, barbed wire and excerpts from the Russian Penal Code are significant parts of the interior design at VIP Zone, Magnitogorsk. You can have a seat on a plank-bed (there are comfortable chairs for the more delicate) and eat your food with an aluminium fork. When you have finished, waitresses dressed in striped prison wrappers will bring you a bill dotted with fingerprints.

"I wanted to open a restaurant that would be something absolutely new, like nothing before it," Malkin told Komsomolskaya Pravda daily.

VIP guests are taken to the "chief's office" - a room in crimson with heavy furniture and portraits of Soviet dictators like Stalin and Beria, donning maps marking all the Russian prisons.

"Designers suggested making it look like a maximum security prison. I now plan to establish a network in other cities," he added.

In spite of the grim interior, the food is nothing like prison meals. However, you can order authentic chifir — a popular Russian prison drug made from tea. And if a visitor drinks too much, the person is driven home in a police car.
I'm wondering why the fine, twisted folks at
the eXile
haven't found out about this yet?