Rock Cats' Perkins Takes No-Hitter Into Seventh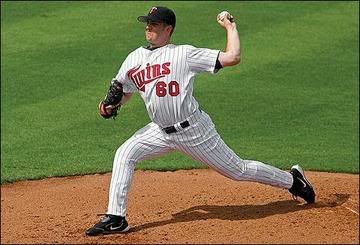 Glen Perkins
Showing that you never really know what might happen at the ballpark, today's seemingly worthless match-up between the next-to-last New Britain Rock Cats and the
tedious
Connecticut Defenders, featuring two starting pitchers with a combined record of 5-23, turned out to be a heck of a
1-0
ballgame.
Perkins, who made the Eastern League All-Star team this season despite his subpar won-loss record, struck out 10 in seven shutout innings while giving up only one hit, a single to lead off the seventh inning. The Rock Cats scored their only run in the bottom of the sixth, on a line-drive RBI single by Denard Span.
The Defenders have now been held scoreless for 29 straight innings.
Tonight was another bobblehead giveaway, supposedly of everyone's
favorite guy to hate
, A.J. Pierzynski (I didn't get a bobblehead, so I'm not really sure). Oddly enough, Pierzynski and Doug Mientkiewicz were two of my favorite players while they were in New Britain; shows what I know, I guess.
Again, despite setting all kinds of team attendance records every season (10th among all Double-A teams nationwide last season), the Rock Cats saw fit to stick it to their fans and raise the parking fee to $5 this year-- and this for a stadium that has practically no room for parking in the first place.
As a side note, former Rock Cats reliever Pat Neshek just became the #1 search engine query bringing people to this web site, with nearly 1000 hits topping even "Ovechkin" and "Malkin". That seems a good enough reason for me to drop all three of those names again.