Sound Tigers Switch Jerseys In Order To Save On Socks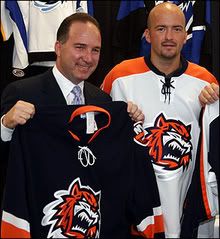 Romulans! Romulans!
The Bridgeport Sound Tigers' new jersey design, which had been leaked
weeks ago
, was officially announced yesterday at a press conference that was neither A) crashed by the made-up guy from
The Blue Revolution
, nor B) crashed by anyone from
Blue Revolution
, nor C) attended by any Islanders fans chanting "
We love Wang!
".
And the official reason given for the Sound Tigers' new color scheme?
Socks
.
From Mike Fornabaio of the Connecticut Post:
Pants, gloves and road helmets will be the same navy blue as the Islanders', a deeper shade than the Sound Tigers' former color. Socks will match the Islanders' as well.

One big reason for the switch, team president Howard Saffan said, is that each player can now wear the same helmet, socks, gloves and pants whether he plays for Bridgeport or gets promoted to the Islanders. Another is organization identity, especially after the Islanders bought the Sound Tigers from a local group in 2004. And another is straight-up money: one helmet, pair of socks, gloves and pants for each player, after all.
I'm thinking that when the Sound Tigers were looking for a new head coach a while back, somebody should've put in a call to
Todd Jones
.
Lest anyone think that ridiculous screw-ups within the Islanders organization are the sole domain of the parent club, note how the Post article conveniently reminds everyone that the Islanders had to take financial control of the Sound Tigers two years ago, after the Sound Tigers' local ownership at the time
defaulted
to the Islanders on nearly $750,000 in affliation fees.
Compared to that, and everything else that the Islanders have done lately, I guess these new jerseys don't look half as stupid.
UPDATE 8/10/06 -
The line of the day goes to
Can't Stop The Bleeding
: "Potvin socks"