You May Get All The Ladies But I Got My Shit Together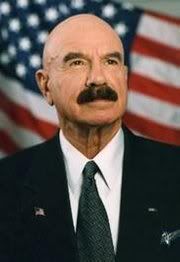 Ain't nuthin' but a "G" thang
I've been "tagged" by Alanah at
Vancouver Canucks Op-Ed
, indoctrinating me into the "Five Weird Things About You" chain-thingie for hockey bloggers that was started by
Mike Chen
. So don't blame me if I end up bending the rules a little bit, because remember--
you asked me first!
Portrait of the Author as a Pain-In-The-Ass
1) G. Gordon Liddy is my ideological twin. Swear-to-fucking-God!!!
2) While at home, I frequently use made-up words when I talk.
3)
Give us your tired, your poor, your cheapest of cheap goals. In Game 6 of the 2002 semifinals between Roy's Colorado Avalanche and the archrival Detroit Red Wings, Roy made a nifty glove save on Steve Yzerman early in the match. Then, as was his wont, Roy added a grace note, brandishing his glove like it was Lady Liberty's torch. The problem: When the most winning goaltender in the history of the NHL raised his trapper to show the Wings and the world his swell save, the puck tumbled out and trickled into his own net.
Whoops-- wrong list.
3) I grew up in Maine, causing an abnormality that had me starting out life as a Boston Bruins fan. I got better!
4) In my not-so-secret punk rock past, I spent a chunk of my youth going to hardcore straight edge shows at clubs like the Anthrax and CBGB's. With some friends, I helped start a record label that put out a few of the earliest straight-edge records (bands like Underdog and Crippled Youth).
Some of this you can look up: the first record that I had pressed on my own, a
compilation
of Ct. bands, is listed on the
Kill From The Heart
web site. I'm also on the "thank you" list for the first Youth of Today 7".
5) Along with the records, I also published my own music zine for about 10 years. (
What's a zine?
) I changed the name of the zine a bunch of times, but the last 6 issues were all called "Brushback", which is where the nickname comes from (this was well before any of the web sites using the name Brushback emerged, so fuck 'em). I continued to have my own record label back then, called Sidearm-- which is where Sidearm Delivery comes from.
You used to be able to order copies of Brushback on-line, through places like Tower, See Hear, Quimby's, and Atomic. All that's left now, though, is this since-deleted page from the Atomic on-line catalog, which
lists Brushback
as a "suggested item" for people buying an inferior punk-rock-and-baseball zine called Chin Music. They also list Go Metric! zine, which is an awesome zine that Mike Faloon from
Zisk
still puts out.
Also, somewhere in the
Jersey Beat
archives, you might be able to find this write-up about me that was written by
Jim Testa
:
"The James Thurber of the indie underground, penning acid-tongued cartoon barbs that skewered the pretentious and self-important bilbos of the pig-fucker* elite... unleashing the unparalleled wit and incisive social commentary for which he was known."
Doesn't really sound too much like me anymore, does it... but that's enough-- you people know way too much now.
*"pig fucker" was an epithet coined by Village Voice rock critic Robert Christgau to describe '80s bands like Sonic Youth and Big Black, which he didn't like. He's dead now, isn't he?
As a companion to my "Five Weird Things About Me" list, I offer the Five Weirdest Posts from Sidearm Delivery:
An early one
On the day Frank Perdue died
Summer '05 entertainment guide
On the day Bob Denver died
This band name sucks
Just in case anyone feels disturbed after reading all of this crap, I offer this bit of soothing re-assurance from The Nonist's classic public-service pamphlet about
Blog Depression
: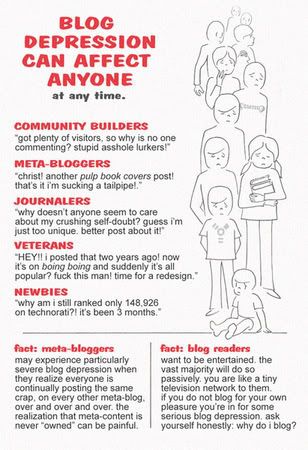 I don't know hasn't been tagged yet (maybe everyone should link to their posts in the comment section of Mike Chen's original post?), but in any case--
Razor
,
N.L. Bobblehead
,
Heather Obsessed
--
YOU'RE IT!