#1 Fan Of Psycho Dan
Dan Cloutier, Hartford Wolf Pack '97-'98 (Diane Sobolewski photo)
The Hartford Wolf Pack recently created an archival web site,
10 Years... 1 Mission
, in conjuction with this, the team's 10th season.
Though still somewhat under construction, the site already has photo galleries for the team's first two seasons ('97-'98 and '98-'99)-- photos that, before now, weren't readily available on-line, being from the pre-
Chris Rutsch
era.
Some of the great players in Wolf Pack history... (all archive photos by Diane Sobolewski)

Marc Savard, who lead the team in scoring their first season
(74 points in 58 games in '97-98)



5'-10" P.J. Stock takes on 6'-6" John Jakopin of the Beast of New Haven,
'97-'98



Dale Purinton checking Georges Laraque, then with the Hamilton Bulldogs,
'98-'99



Another one of my favorite players: Johan Witehall, a skillful Swede
who was also tough along the boards



Mike York, who joined the team right out of Michigan State at the very end
of '98-'99, scoring 5 goals in only 9 games for the Pack
And, we've got videos! The team has also posted some of the "Sin Bin" shorts that air on the video board during games while a player from the visiting team is in the penalty box. They feature the Pack's Marketing Director, Paolo Pantano, suited up as a player from one of the Pack's more hated local rivals (Springfield, Portland, or Providence). While the video plays during a game, the camera cuts back to live shots of the actual player in the box, so that it seems like the player in the box is the guy in the video.
Clickin on each photo will start the video, using Windows Media Player: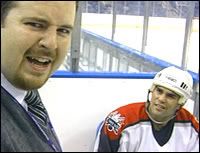 Paolo is a Portland Pirates player who gets told to "Beat It"



A Springfield Falcons player has a tea party in the box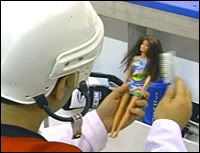 All Portland Pirates players like to play with dolls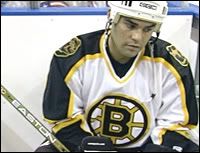 The picture quality of this one isn't as great, but Paolo portrays a
Providence Bruins player while in-game MC Damon Squat gets bounced
around in the background, SNL-style, to Haddaway's "What Is Love?"
Not all of the "Sin Bin" videos are on the web site; they left out the one that acts out "Bohemian Rhapsody" (which is similar in style to the "Beat It" one), as well as ones showing the player pulling a bra out from under his jersey and coloring in a coloring book.
Trust me, these are pretty funny when they get shown during a game-- they beat suffering through another stupid "Let's Get Loud" Noise-o-Meter animation, at least.