Dispatch: Blue Jackets out of wack with Zherdev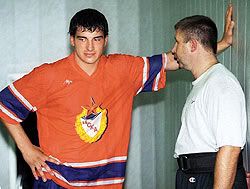 Nikolai Zherdev
As the contract negotiations between the Columbus Blue Jackets and Nikolai Zherdev start to
die out
, it looks more and more like Zherdev will remain in the Russian Super League this year with Khimik Voskresenk, where he has already been training and playing in pre-season games throughout the past month.
Not pulling any punches, Bob Hunter of the
Columbus Dispatch
sees the situation this way:
Is there some way we can work this out so Doug MacLean spends the year in Russia and Nikolai Zherdev spends it here?

The more clear it becomes that MacLean, the Blue Jackets president and general manager, is serious about letting one of the team's most dynamic young players spend the season in Russia because he won't accept a "fair" offer, the more obvious it is that MacLean is the one who could use a little downtime in Siberia.

Let's take a quick poll: Who do you like more right now, Zherdev or MacLean?

OK, that's what I thought. A lot of people have grown weary of enduring the MacLean bluster for so little results.

Zherdev is one of the few Blue Jackets who can actually sell tickets with his play. He was the team's second leading scorer last season at age 21 and he did it with flair, sometimes creating more excitement with moves that didn't result in goals as other players do when they score.

Zherdev is different, and no matter how hard team officials try to make him sound expendable, it simply isn't true. If Zherdev stays in Russia, he will definitely be missed by the team and by ticket buyers, which makes you wonder why a team president whose job should be in jeopardy if the team doesn't win would decide to draw a line in the sand directly in front of him.

It's hard to believe the Jackets wouldn't try to lock Zherdev up for three years or more—- he probably would be happy with a three-year, $6 million deal-— especially given his enormous potential. Although he has a tendency to be a little flaky on the ice and sometimes hogs the puck, trying to rein him in by forcing him to accept less money for a shorter term could end up costing the team a promising season.

Maybe MacLean just wants to show this unappreciative Russian kid who's the boss. He has actually floated the idea that the Blue Jackets did Zherdev an enormous favor by helping get him out of Russia, and supposedly this is how the ungrateful kid is repaying them.

As much as we would like to honor the team for its humanitarianism, it's worth noting that the Jackets didn't help mediocre Russian players escape from hockey slavery. The Jackets helped Zherdev because he could help them. He owes them nothing.

So here we are, a little more than a month before the start of a season patient Blue Jackets fans have waited years for, and the team is wallowing around in the muck of a self-created crisis. If that doesn't make you want to run out and buy tickets, I don't know what will.