If I Can't Smoke and Swear I'm Fucked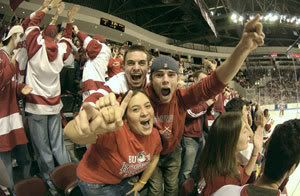 Fuck 'em up, fuck 'em up, BC sucks! (click it)
Bad news for potty-mouths: Boston University officials are clamping down on chanting at BU Terrier hockey games and other events, as reported in the
Boston Globe
(link via
Can't Stop The Bleeding
):
Terrier fans are particularly rabid at ice hockey games, where they wear red and white jerseys, paint their faces, and proudly proclaim their loyalty in loud and sometimes profane chants. They call themselves the Dog Pound and are known for taunting rival fans and insulting opposing players.

But university officials said yesterday that they have a new policy forbidding the use of swear words at BU sports events, along with racist and sexist comments. The penalty is expulsion from the sporting event, and it has enraged some students who say that cursing is practically tradition.

"That's terrible and an infringement on our freedom of speech," said Kendall Lyons, an 18-year-old sophomore who often takes part in the chants. "Sports won't be fun anymore."

BU's dean of students, Kenneth Elmore, said the new policy was put in place after administrators received numerous complaints about the stream of obscenities coming from students at hockey games.

"We wanted to make clear that games should be spirited and lively," Elmore said. "But standing and shouting obscenities does not have a place. I don't equate school spirit with the yelling of obscenities."

In the past, Elmore said, fans expressed their enthusiasm by chanting, "Rough `em up, Rough `em up, Rough `em up. Go BU."

However, in recent years, the Dog Pound has altered the cry to insult the rival team. Fans are most fervent for their traditionally strong hockey team, which has won four national championships and has sent many players to the National Hockey League.

"We call the goalie ugly a lot," Lyons said with pride. "We'll tell him to put his helmet back on."

"I really don't know how they're going to enforce it," said Tim Sullivan, a 20-year-old junior, who waited with friends at an MBTA station on Commonwealth Avenue yesterday. "The hardcore fans, you're not going to stop them... They're going to kick out the whole (student) section."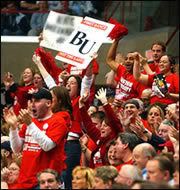 Look-- it's starting already
I think crowd participation is a big part of what makes hockey great, and for quality chants and heckles it's hard to beat the old New Haven Coliseum's infamous
Section 14
.
When New Haven was in the UHL, it seemed like they were always playing the Adirondack IceHawks (mostly because of travel reasons; only a few teams in the league were within a reasonable driving distance of New Haven), and Section 14 would sing for the IceHawks, "Aaaaa-dirondack! Aaaaa-dirondack! Aaaa-dirondack is a
horse's ass!
" They would also chant at the IceHawks' Frank Littlejohn, "Little Johnson!", and at Jason Bone, "You! Suck! Bone!"
If anyone from the opposing team ever really pissed them off,
the whole section would chant (Marines-style)
: "(bad guy) is a friend of mine! S**** my weiner all the time! If you've got a seasons' pass! He might even lick your a**! Sound off-- F*** YOU!!"
Once, when New Haven was really beating the IceHawks badly-- 9-2 or something-- Section 14 started to chant "Turn the net around!" after each New Haven goal.
Some other chants and heckles I have read about, or heard at a game:
I first heard this one at a New Jersey Devils game: when the visiting team's starting line-up is announced, the fans shout "SUCKS!" after each player's name. I've tried to use this one at Wolf Pack games, but no one ever follows along.
Another variation is when a penalty is called on the other team: "Springfield penalty on number 8, Jason Jaspers.." "SUCKS!" "Two minutes for..." "SUCKING!"
Here's another BU hockey chant, this one directed at the Maine Black Bears:
"The wheels on your house go round and round, round and round, round and round
The wheels on your house go round and round, 'cuz you're white trash!"
I think this one was started by Harvard fans, mostly because it has too many words:
"You're not a goalie, you're a sieve!
You're not a sieve, you're a funnel!
You're not a funnel, you're a vacuum!
You're not a vacuum, you're a black hole!
You're not a black hole . . .
You just suck! You just suck! You just suck! You just suck!"
Besides the ever-reliable, "Get off your knees, ref! You're blowing the game!", there's this one (supposedly chanted at some college in the mid-west) that I found on-line:
"Ref's out to lunch! Ref's out to lunch! Eat me, ref! Eat me, ref! Munch! Munch! Munch!"
Announcer: "One minute left in the period..." "...and Colorado still sucks!"
Here's a simple one that I always screw up: during the playing of "YMCA", singing "Why's Bridgeport Gay" (directed at the Bridgeport Sound Tigers). Must be because I've gotten so P.C. all of a sudden.
Heckler's Grove
("The premier fan site of Cincinnati Hockey") includes a listing of some of their favorite chants and heckles, as well as a
section
dedicated to some of the signs that they've made in honor of some opposing players.
Probably the best-known "heckle" web site is
Heckle Depot
; it's mostly for baseball, though. I sent them one of my own heckle stories years ago, when I said something to the New Haven Ravens' Justin Kaye that made him flip me the bird, but I don't think they ever used it.