One-Game Wonders
Christian Soucy, whose NHL career consisted of 3 minutes in one game for
the Chicago Blackhawks, '93-'94 (image: www.goaliecards.com)
In the 90-some-odd-year history of the NHL, there are quite a number of players whose NHL career amounted to just a single game played. The Hockey Hall of Fame keeps a list of all of these
players
, the so-called "One-Game Wonders".
Here are a few of those players:
John Aiken -
Played in goal for one game for the Boston Bruins, 1958. Aiken was a mathematician who played 4 seasons for the Boston Calculators (no shit!) of the Metropolitan Boston Amateur Hockey League, and also played for the B.U. Terriers, posting a 4-19 record with a 7.09 GAA in '54-'55.
This was back when the NHL used a stand-by system for goalies, meaning the back-up goalie was generally an amateur who sat in the stands, waiting to go into the game without practice or preparation at a moment's notice. Aiken entered the game for visiting Montreal after Jacques Plante was injured in the second period, and gave up 4 goals his first 5 minutes. He went on to finish the game, however, a 7-3 victory for the Bruins.
Sebastien Centomo
Sebastien Centomo -
A goalie who made the unlikely
jump
from the Central Hockey League to the NHL in his first year as a pro, Centomo started off the '01-'02 season with the Memphis RiverKings of the CHL. After a white-hot 16-1-0 start for the RiverKings, Centomo was promoted to the St. John's Maple Leafs of the AHL, where he continued to play well. Two months later (following an injury to Curtis Joseph), he found himself on Toronto's bench as the back-up to Cory Schwab.
Unfortunately, Centomo's NHL debut didn't go so well, as he gave up 3 goals (on 12 shots) in a relief effort against the Detroit Red Wings. A couple of weeks later, Centomo was back in the minors, though he did get voted the CHL's Rookie of the Year for 2002.
Greg Redquest -
In his only NHL appearance, allowed three goals in a thirteen-minute relief stint in net for the Pittsburgh Penguins on March 19, 1978.
Redquest was once called up from the minors by Pittsburgh but chose to stay at home, thinking that it was a prank by one of his friends. He ended up racing to the arena after watching the game on TV and seeing that there was no back-up goalie on the Penguins' bench.
Cam Brown (in white)
Cam Brown -
Racked up a 5-minute fighting major and a 2-minute roughing major in his only NHL game for the Vancouver Canucks in '90-'91, making him (by my own unoffical tally) the leader in career penalty minutes for one-game wonders.
After a couple of 300-plus PIM seasons early in his minor pro career, Brown has gone on to become a fairly competent goal scorer and team captain over a lengthy career in the ECHL.
Jeff Daw
Jeff Daw -
Danbury Trashers, UHL, '04-'05: 60 games, 29 goals, 47 assists, 76 points. Colorado Avalanche, NHL, '01-'02: 1 game, 0 goals, 1 assist, 1 point.
Bill Anderson -
In 1943, the Boston Bruins were leading their best-of-seven Stanley Cup semi-final against Montreal, 3 games to none, when coach Art Ross inexplicably decided to start untested rookie netminder Bill Anderson in Game Four. Anderson and the Bruins lost the game, 4-0, and though the Bruins went on to win the series, Anderson never played another hockey game.
Jamie Ram (photo: www.goaliesarchive.com)
Jamie Ram -
Played a period and a half in net for the Rangers against the Avalanche in '96 without allowing a goal, and that was it.
Ron Loustel -
Gave up 10 goals in a losing effort for the Winnipeg Jets in 1980-81, while he was still in juniors as an 18-year-old. Loustel's entire pro career lasted only about 123 minutes, as he played two more half-games (over two separate seasons) in minor pro hockey before retiring at 21 in 1983.
Parris Duffus
Parris Duffus -
Posted a 2.07 GAA in half of a game in net for Phoenix in 1996-97, but really, he gets mentioned here just because his last name looks like Doofus.
Murray Wing -
Scored a point in his only NHL game, for the Detroit Red Wings in '73-'74, before spending the rest of the season playing in England for the
London Lions
.
The Lions were a start-up team founded by the then-owner of the Red Wings, Bruce Norris, along with future NHL President John Ziegler. They were hoping to start a European league that would run in conjuction with the NHL, with the top teams in the European division then competing in the NHL playoffs for the Stanley Cup, but the league never got off the ground.
Brad Fast
Brad Fast -
With the Carolina Hurricanes in '02-'03, Fast scored a goal in his NHL debut, one of only two "one-game wonders" in the past 75 years to have done so (
Dean Morton
, Detroit Red Wings '89-'90, is another). Fast has yet to make his return to the NHL, and will play in Europe this season.
Moe Robinson -
The lesser-known brother of Hall of Famer Larry Robinson, he got to play alongside his brother in his one game in the NHL, for Montreal in '79-'80.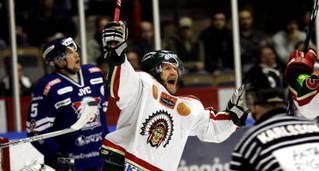 Ronnie Sundin
Ronnie Sundin -
A seven-time member of Sweden's WC national team and an accomplished 15-year pro, Sundin tested the waters in North America for just one season, playing in the AHL for the Hartford Wolf Pack in '97-98. He appeared in one game with the parent club New York Rangers that year.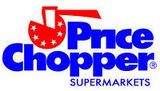 Yves Heroux -
Played in one game with the Quebec Nordiques in 1986-87. Heroux went on to have multiple 40-goal seasons in IHL, and will forever stand as the leading scorer for the ill-fated Albany Choppers.
Named after a supermarket chain, the 1990-91
Albany Choppers
were the IHL's first attempt at Eastern expansion, in a league whose teams were primarily in the Mid-West. Faced with extremely high travel costs, indifferent fans, and competition from two AHL teams that were within a 50-mile radius, the Choppers quickly started to lose money by the bucketloads. Unable to meet payroll and expenses, the team folded in mid-season.
One story has it that the Choppers were so low on equipment that, in an overtime shoot-out against Fort Wayne, Jim McGeogh had to take the final shot for the Choppers primarily because he was the only player left on the bench with a useable stick.
Sean Gauthier
Sean Gauthier -
Played three minutes of a game for the San Jose Sharks in 1998-99. Along with
Christian Soucy
(Chicago Blackhawks, '93-'94) and
Robbie Irons
(St. Louis Blues, '68-'69), he holds the mark for the fewest career minutes of any one-game wonder.