Rock Cats end crummy season on a down note
The New Britain Rock Cats polished off a putrid 64-78 season with a 3-2 loss in 10 innings to the Harrisburg Senators on Labor Day. The loss insured a last-place finish for the Rock Cats in the Eastern League's Northern Division, a half-game behind the almost-as-sorry Connecticut Defenders, who also lost their final game of the season (4-1 at home to the Binghamton Mets).
Unlike the light-hitting Defenders, who scored 2 or fewer runs in 64 games this season, a handful of New Britain players put up some decent numbers this year. Left fielder Trent Oeltjen finished third in the EL in batting, falling just below .300 to .299 on his final at-bat of the season. Center fielder Denard Span led the EL in hits (153), and 1B Danny Matienzo's 17 homers this season gave him a franchise-high 40 career home runs over his two seasons in New Britain.
Whatever offensive potential the team had went mostly for naught, however, as skipper Riccardo Ingram had an uneven go of it in his first season managing in New Britain. Two players from the Rock Cats roster this year did end up getting to Minnesota (SS Alexi Casilla and P Matt Garza), but for the most part, the better-known prospects who began the year in New Britain didn't seem to make a lot of progress.
Luckily for the team's coffers, none of this affected attendance that much, as the team's per-game average of 5,052 was its highest ever. The standing-room-only situation on the weekends is one reason why I don't go to as many games as I used to. There were dollar general admission tickets and dollar hot dogs for Monday's game, though, which brings out a crowd better than Easter Sunday at church.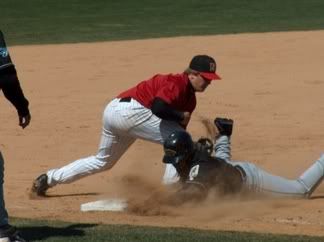 Rock Cats third baseman Matt Moses
Since this will probably be my last baseball post of the season (out of what, five all year), I'll finish it off with some baseball superstitions, taken from an old issue (probably from the 1930's or something) of
Brushback
zine:
- Never change socks during a hitting streak.
- Never step on the baselines when coming in from the field at the change of an inning.
- Beware of left-handed barbers.
- If a player finds his sock is inside-out, he shouldn't change it or the team will lose.
- Never allow bats to cross over each other on the bat rack. If they do, the next batter will strike out.
- Step on a base when leaving or heading out to the field.
- For each hairpin found at the ballpark, the batter will get one base hit.
- A razor cut or nick means a missed fly on the field.
- Spilled coffee on the tablecloth means bad luck for seven days.
- If the starting pitcher sees a hunchback before the game, he must immediately borrow someone else's shirt for the game.
- Seeing a cross-eyed girl is even worse than breaking a mirror. The remedy to get back good luck is to remove your baseball cap and spit in it.
I swear by almost half of these, and I haven't struck out or missed a fly on the field for who knows how long.