Tiger's Favorite Rock
Tiger Williams
The
Calgary Herald
recently printed a story about former NHL tough guy Tiger Williams (four times a 20-goal scorer-- you can look it up!) and his new career as an oil prospector. The story is somewhat amusing, and even goes so far as to mention Vancouver punk rockers the Hanson Brothers, who once garnered over one-thousand supporters for their campaign to get Tiger into the Hockey Hall of Fame.
Read on:
Rock in hand, Tiger Williams hunches down, excited by the makeshift demonstration taking shape on the floor of his office. "Hand me that other rock," he says, waving at a chunk of stone on the corner of his desk.

Nodding a thank you, the NHL's all-time penalty leader pauses to consider the smaller rock he's just set down on a piece of cardboard. Then, hoisting the fist-sized fossil from his desk, he brings it down with a crack on the smaller stone.

"Damn," he says, a look of genuine disappointment spreading across his face. "You broke my favourite rock."

Notorious, celebrated, vilified, charged-but-never-convicted, beaten-but-never-beaten-down, Tiger Williams, yes he of the 4,421 career penalty minutes, is running a publicly traded oil company.

In a career that included tours in Toronto, Vancouver, Los Angeles, Detroit and Hartford, Tiger carved out a spot, sometimes literally, as one of the NHL's top enforcers. Lacking the skills of a Guy Lafleur or Marcel Dionne, he did the dirty work needed to stay in the league.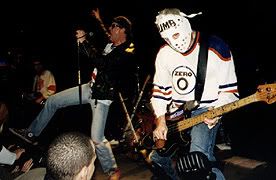 Hanson Brothers (photo: Paul Clarke, DropD)
Eight years after retiring, Tiger still inspired a song by the Hansons, a hockey-themed punk band. The chorus:

He looked a lot like Tiger Williams
He was brave and strong and true
But if you tried to cross him
He would put a hurt on you
Tiger's even struck oil, though so far to little avail:
Which brings Tiger to last March, when his consortium announced one of the biggest northern oil finds in eighty years. In an abbreviated test, a discovery well at Summit Creek flowed at more than 6,000 barrels of oil a day and 20 million cubic feet of gas, off the charts compared to most wells in Alberta.

Pacific Rodera's shares bounded on the news, trading as high as $2.58, giving the tiny company a market value north of $120 million. But the good times haven't lasted. With no place to put the oil, Husky decided against paying for a full test of the discovery, meaning no one can be sure if the well will keep flowing at the same rate.

Dusting rock shards from his hands, Tiger settles back behind his desk and starts talking about what comes next. At some point, Pacific Rodera is going to have to raise money to afford its part of the consortium's expenses. With a share price down to 47 cents and a market value of $23 million, doing a financing now is a lot less appealing than it was a year ago.

The reality is that Pacific Rodera is still years away from meaningful cash flow. Until his well gets tied in, a patient Tiger says he'll stand by the first lesson of hockey: keep going to the net.

"If I have to wait another two years or 10 years to hook it up, I don't care," Tiger says. "When we hook onto those lines, then that to me is when we get to walk around our property with a barrel of oil above our head. We get to hand it off to each other and say, 'Good for all you guys for having the balls and the vision to stay with it.'"