Worcester's Jerseys Won't Make Anyone Puke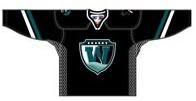 Worcester Sharks alternate jersey
With all the ruckus that's been going on lately ("Could you describe the ruckus, sir?") about which hockey team logos
suck the most
, or how awful the Buffalo Sabres' new jerseys are, I'd like to step back a bit and point out that I think the new Worcester Sharks jerseys look pretty sharp.
The jerseys, which were announced
last week
, follow along with the parent club San Jose Sharks' jerseys for the home and away versions. Nothing ground-breaking, obviously, though it's still not a bad jersey (and actually, I have a San Jose Sharks jersey in my collection). It's the alternate jersey, featuring "a shield with the letter W and a shark fin coming out of the waves", that I think looks cool.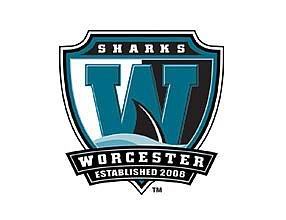 This doesn't mean that I won't be rooting for the Wolf Pack to beat Worcester's ass this year, obviously.
By the way, I like how Buffalo has placed the player numbers on the
front
of their jerseys. It reminds me of the NFL jerseys from the '50s-- like something that Johnny Unitas or Hugh McElhenny would wear, which is the same thing I thought when I first saw the
Phoenix Coyotes
jerseys last season.