Because Life Is Too Short To Drive Cheap Beer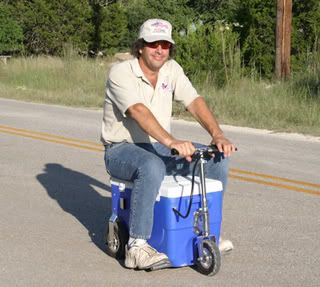 Thanks to
Flak Magazine
, I just found out about the
Cruzin' Cooler
-- the drink cooler you can drive!
The Cruzin' Cooler comes in both
gas and electric
models, and is capable of traveling at up to 15 miles-per-hour. Big enough to hold a 24-pack of cans along with 8 lbs. of ice, the Cruzin' Cooler retails for around $500 and comes in your choice of five colors.
This is great for people who are too lazy to load their beer cooler into the car. Instead, drive your cooler to the game!
Why bother with those cumbersome child safety seats and annoying seat belts? Fuck, man-- just keep on drinkin'!! Who'll know the difference?
Apparently, they're tougher than a son-of-a-bitch, too. Yeee-hah!