Defending the Caveman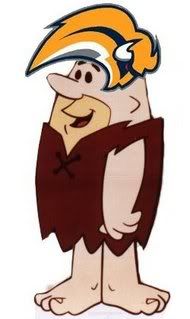 Image taken from Jasper's Rink
Seeing in-game action of the new Sabres jerseys during Wednesday night's Buffalo - Carolina game on
Versus
has me leaning towards thinking that they might be cool-looking jerseys after all. I know they've been getting torn apart by everybody else, but if I was, let's say, at a Hartford Wolf Pack game and the other team came out for pre-game warm-ups wearing those jerseys, I'd probably be like, "Wow, those look pretty neat."
On the other hand, maybe that's the problem-- Buffalo's jerseys would make great-looking minor league jerseys (they'd be an automatic improvement over most of the jerseys in the
ECHL and CHL
, that's for sure), but perhaps they're a bit too small-time for NHL fans.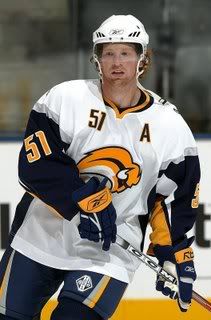 The new Sabres jerseys already look a lot like at least one minor-league jersey, though-- the Norfolk Admirals jerseys from a few seasons ago: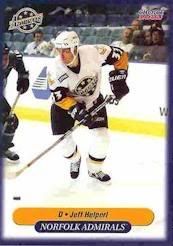 Maybe I'm somewhat contradicting myself here by liking the Sabres' jerseys, since I thought the Admirals' jerseys sucked the first time I saw them (when Norfolk joined the AHL from the IHL)-- too much busy stuff happening under the sleeves, which is a part of the design of Buffalo's jerseys also.
This could be one for G12 to sort out-- he always seems to have
all the right answers
.