That Dumb-Ass Sweater Isn't Getting Any Better
Peoria Rivermen (ECHL) Colin Hemingway '04-'05
"Disco Night" jersey
(Exclusive Pro Sports-- click image to see back)
Since my first
ugly jersey
post from a couple of weeks ago, I've managed to find enough god-awful jerseys-- through people who left comments, or from message boards that linked here, or just from looking around in general-- to make a whole new post.
The first time around I was able to stick with mostly good-quality still photos taken from various jersey collectors' "community" photo galleries, but this time I'm mixing in some live-action (and other random) photos as well. A good many of these were taken from
TulsaHockey.net
and
HockeyJimm.com
. Again, this is barely scratching the surface of what's out there, so look around, who knows what sort of ugly jerseys you might find...
San Antonio Iguanas (CHL) Halloween Mike Peat '99-'00 jersey
Border City Bandits (CHL) Francis Boulay '00-'01 jersey
Phoenix Roadrunners (IHL) '95-'96 warm-up jersey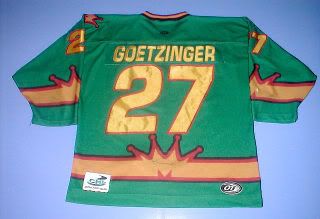 Memphis RiverKings (CHL) Jeremy Goetzinger '00-'01 jersey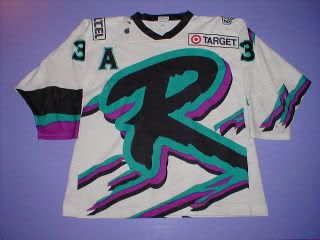 Richmond Renegades (ECHL) Darren Wetherill '99-'00 jersey
San Francisco Spiders (IHL) '96-'97 warm-up jersey
Here's the "exploding chicken" jerseys that a commenter pointed out in the first post...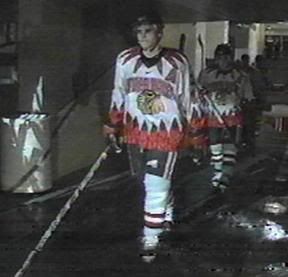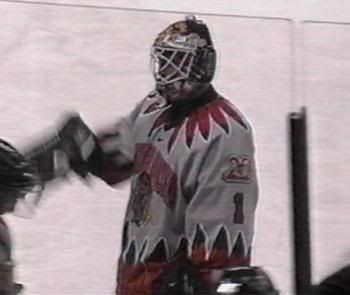 Portland Winter Hawks (WHL) '00-'01 25th Anniversary Saturday jersey
Vaughn Street Sports
This is a photo of a "tuxedo" jersey that I found on a message board-- I don't know what team it is:
Tuxedo jersey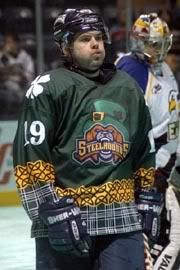 Youngstown SteelHounds (CHL) Jean-Francois Labarre '05-'06
St. Patrick's Day jersey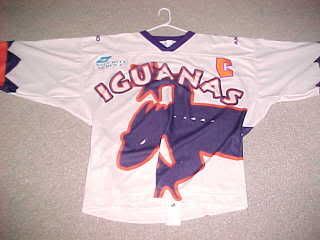 San Antonio Iguanas Scott Green '98-'99 alternate jersey
I think this one's hysterical...
Rio Grande Valley Killer Bees (CHL) '05-'06
"Episode III: Revenge of the Bees" Star Wars jersey
(killerbeehockey.com)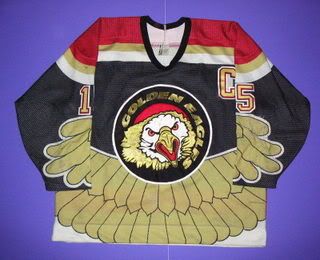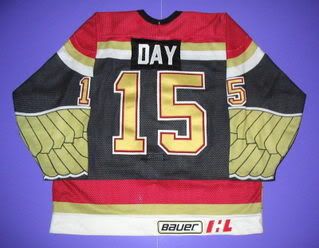 Salt Lake Golden Eagles (IHL) Joe Day '93-'94 jersey
Ziggy Palffy played on this team!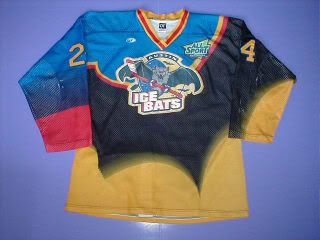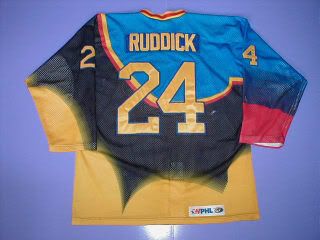 Austin Ice Bats (WPHL) Ken Ruddick '97-'98 jersey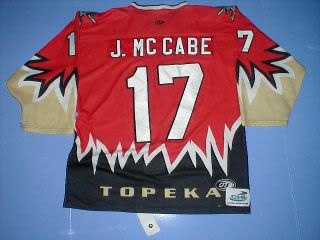 Topeka Scarecrows (CHL) John McCabe '00-'01 alternate jersey
Hot toe-picker!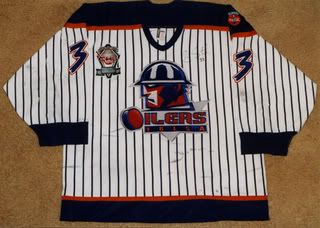 Tulsa Oilers (CHL) Chris Smith '96-'97 jersey
Austin Ice Bats (WPHL) '97-'98 "Patriotic" jersey
Worn during a special series against the Russians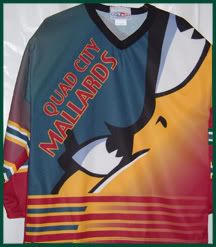 Quad City Mallards (UHL) warm-up jersey
(qcmallards.com)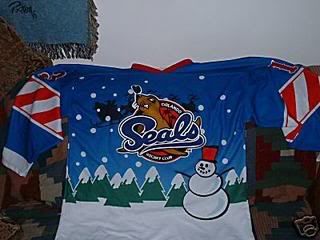 Orlando Seals (WHA2) Christmas jersey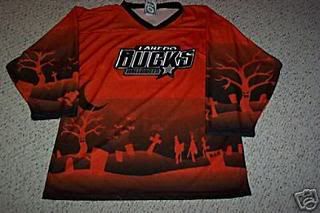 Laredo Bucks (CHL) Halloween jersey
Laredo Bucks (CHL) '04-'05 New Year's Eve jersey
(laredobucks.com-- still on sale!)
Greg from
The Post-Pessimist Association
first pointed this one out to me-- last I knew, it was still available on e-Bay...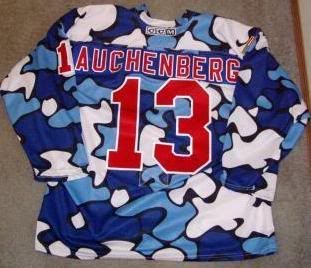 Spokane Chiefs (WHL) Doug Auchenberg '03-'04
"Armed Forces" jersey
Here it is: a photo of the actual jersey (not just a
graphic
) that the St. Louis Blues were going to wear as an alternate jersey in '95-'96...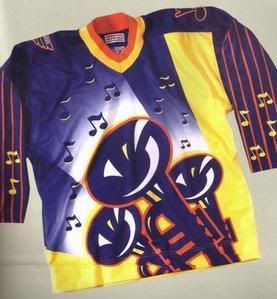 St. Louis Blues (NHL) '95-'96 "banned" alternate jersey
Finally, the coup de grâce-- this gets my vote for the stupidest-looking hockey jersey ever. I think this jersey has been posted on every message board known to man.
Quad City Mallards (UHL) '04-'05 "Western" jersey
You got one that's worse?