Tool World Order Makes Its Mark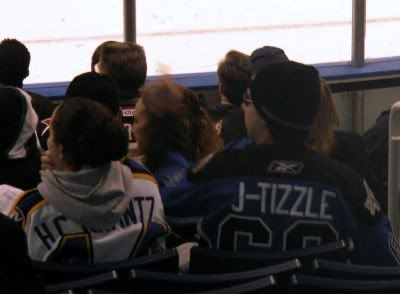 "J-Tizzle 69", leader of the "tWo" (Tiger World Order) and the genius picked by
the Sound Tigers as their Fan of the Year last season (Photo: packattack.org)
Generally, when they throw t-shirts into the stands at a hockey game, the adults have no problem letting the kids have the shirts... except for the other week at The Corruption Dome in Bridgeport where, over a free t-shirt, one fan stomped on a 7-year-old boy and made the kid cry.
From the
Connecticut Post
:
A New York man was arrested after he was accused of pushing and punching a female college student in a dispute over a T-shirt at a game between National Hockey League teams in Bridgeport's Arena at Harbor Yard.

Edward Dowden, 45, of Rockville Centre, was issued a misdemeanor summons charging him with second-degree breach of the peace.

Police said Sarah Hickman, 20, a student at Sacred Heart University, in Fairfield, reported the attack at 9:21 p.m. to officers in the arena.

Police said Dowden told officers Hickman knocked down his 7-year-old nephew, making the boy cry, when she moved to grab a T-shirt being thrown by an arena staff person into the stands. Dowen and Hickman then started arguing, according to police.

Police said Hickman told officers she didn't mean to hit the boy, while Dowden admitted hitting her after having drunk beer.

Fans complained about Dowden's behavior, police said. "When we detained Mr. Dowden, the entire section of fans cheered," officers wrote in their report.

The incident took place at a pre-season game between the Islanders and Devils.
Gee, I wonder if this is a part of that "Tool World Order" that I keep hearing about.