Deserted Islanders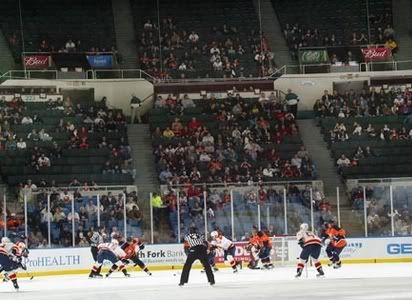 A Saturday night crowd of 10,455 for an Islanders game against Florida. (Newsday photo)
From
New York Newsday
, "Islanders' Glass is Half Empty", 10/30/06:
All the ingredients for a big game were in place Thursday night at Nassau Coliseum. The Islanders had reached the .500 mark by earning points in five straight games. Buffalo came in with a 9-0 record and a chance to tie the NHL record for fastest start in history. And it was the first meeting for new Isles coach Ted Nolan against his old team.

When the Islanders skated out of the tunnel to face Buffalo, they were greeted by a season-low crowd of 8,861 fans. Playing as if the life had been sucked out of them, the Islanders suffered a 3-0 shutout loss that left most in the crowd yawning, except for when they were booing.

Last season, the Islanders ranked last in the NHL in attendance with an average crowd of 12,609, and they still rank last with an average that has dropped to 11,014. Their Saturday promotions have helped, and they are offering free tickets to children 14 and under with the purchase of one full-price ticket for the remaining seven games through Nov. 30.

When Wang bought the team in the summer of 2000, the season-ticket base was an unfathomably low 2,700. It is now about 7,000 when 14,000 is the figure they really need to make a go of it in the league's smallest arena at 16,234 capacity.

Defenseman Brendan Witt said he often saw worse when he played for Washington, where actual bodies in the seats numbered in the 5,000 range at times. But players are human, and they can't help but respond to the atmosphere to some degree.

"It is tough," Witt said. "For me to say it doesn't affect us, I mean, you always like to see the seats filled. When you have that energy of the fans, it connects to the team. When Mike Sillinger and I were in Nashville last season, we were sold out every night. It creates excitement for the team to come to play."
Here are the bottom five teams in NHL attendance, at the time of the Newsday article:
30. Islanders - 11,014 average (67.6% capacity)
29. St. Louis - 11,819 average (62.1% capacity)
28. Chicago - 12,451 average (60.7% capacity)
27. Washington - 13,017 average (69.7% capacity)
26. New Jersey - 13,336 average (70.0% capacity)
Of course, Hartford Whalers fans practically pee their pants over low numbers like these-- even keeping track of them in a thread on the Hartford Whalers Booster Club
message board
-- thinking that it justifies them getting "their team" back.