Kill Some Piss-Ants For Jesus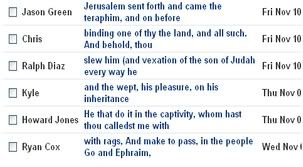 For a good number of years, my Yahoo! e-mail account stayed perfectly spam-free, while all along other people were telling me they had to delete sometimes a dozen or more spam e-mails from their inboxes every day. My luck ran out eventually, though, and so now I'm just like everyone else who gets those crappy junk e-mails by the handfuls, usually with subject lines referring to health products or enhancements of some sort. (Actually, now that I think about it, I started getting all this garbage around the time that I was becoming more active with Blogger; damn those web-crawling spam-bots!)
Just recently, though, I started getting spam with a different approach-- stuff about "Judah" and "Jerusalem" and so forth, written with all sorts of flowery language. Not that it works; I still send the e-mails right to the junk pile without opening them, but it still seems like a funny idea to me: Born-Again Spam, combining the worst elements of religion and advertising in order to better annoy the fuck out of everybody.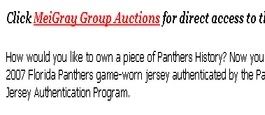 Speaking of e-mails, I received one today from the folks at MeiGray, who have apparently harnessed the heretofore improbable ability to buy time ("Own a piece of Panthers History!").
Thanks anyway, MeiGray, but even if I
could
actually buy a particular moment in time, "in Florida, a short while ago" would be pretty close to last on the list.