My Ding-a-Ling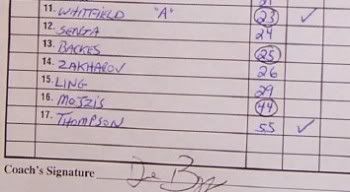 Peoria Rivermen lineup card, 11/24/06 (Peoria Journal Star photo)
I read about this story through Michael Fornabaio's
Soundin' Off
blog over the weekend, and figured it was worth a mention (besides the fact that it includes a couple of names from Wolf Pack history).
From Dave Eminian's (Peoria Journal Star) Peoria Rivermen blog,
Cleve's World
:
Peoria right wing Charles Linglet's name was incompletely listed ("Ling") on the lineup card turned in by the Peoria Rivermen before their game against Omaha on Friday. By rule, the Rivermen were allowed to use a player named Ling. But not a player named Linglet, because the latter was not in the official lineup.

So, 8 seconds into the game, officials sent Linglet off the Rivermen bench, ruling he was ineligible to play.

In such cases, teams do not get to replace an ineligible player, either. You play the game a man short on the bench.

Omaha head coach Ryan McGill waited until the opening puck was dropped, then handed his lineup sheet to referee Frederick L'Ecuyler, who skated to the Rivermen bench and had an exchange in French with Linglet:

"He showed the lineup sheet and said my name wasn't spelled out there, then said, 'Hey, you're out of the game'", Linglet said. "So I just got up and left. I've never seen that happen."

Rivermen head coach Dave Baseggio and assistant coach Brent Thompson (who filled out the card) apologized to Linglet afterward.

"Omaha called it to the referee's attention, which is their right by the rules," Baseggio said. "Ultimately, it's my job to double-check the lineup card and tonight I didn't."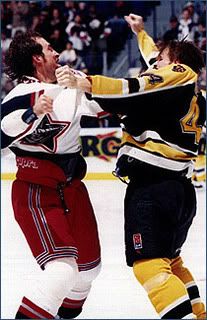 Brent Thompson (Hartford Wolf Pack) slugging it out with Aaron
Downey (Providence Bruins), '98-'99 (Diane Sobolewski photo)
Eminian goes on to mention some instances where similar lineup card snafus occured:
In 1991-92 in the IHL, Rivermen coach Harold Snepsts' lineup card listed winger Kyle Reeves, but not All-Star defenseman Dominic Lavoie. When the game started, Reeves was in the broadcast booth doing commentary with Rivermen radio voice Norm Ulrich, while Lavoie was playing in the game.

A few minutes later, Lavoie was out, taking Reeves' place on the radio broadcast. And Reeves, since his name WAS listed, hurried to the locker room, dressed, and played.
Michael Fornabaio offers his own example:
It's reminiscent of one of the weirdest games the Sound Tigers ever played, Nov. 23, 2003, against Binghamton. Cole Jarrett banked a pass off Dieter Kochan into his own net for the first stoppage of the game, at which point Binghamtom coach John Paddock pointed out that Bridgeport coach Greg Cronin had circled Rob Collins' number on the starting lineup instead of Mattias Weinhandl's. A little later, Peter Smrek shot a puck through the goal netting for Bingo and didn't get the goal; Bridgeport won 2-1.
In case you're keeping track, all of these stories involve names from Wolf Pack history-- Ryan McGill, head coach '02-'05; Brent Thompson, defenseman '97-'99; John Paddock, head coach '99-'02; and Peter Smrek, defenseman '00-'02.
Speaking of names from the past, Wolf Pack fans may be suprised to find out that Johan Holmqvist, the "Swedish Sieve", comes in at #2 on James Mirtle's list of
The Best Players You've Never Heard Of
.
Sayeth James:
I'm honestly surprised Holmqvist never made more of an impact in his time with the New York Rangers organization, as he's looked terrific this season.
I'm glad he's playing much better now, but the worst player in Wolf Pack history?-- Holmqvist gets my vote, hands down.