Picking Up Sluts Ain't The Half Of It
Thanks go out to the terminally amusing
Yes But No But Yes
, who, besides reminding us about the
Billy Idol Christmas album
-- "Thanks for destroying another part of my childhood Billy... I liked you better when you were shooting heroin and screwing hookers"-- also show the way to this awesome little
Tattoo Maker
that you can get your kids for Christmas: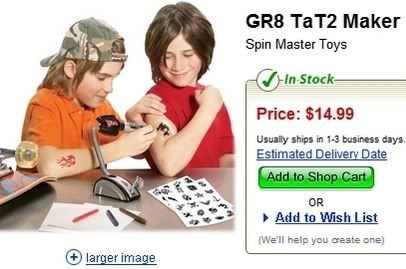 Age: 6-12 years

Description

Open up your very own pretend play tattoo parlor. This easy-to-use tattoo maker kit includes an electronic tattoo pen and funky stencils. Using soft, safe pulsating action, the tattoo pen creates realistic, washable designs with dramatic effects. Requires two AA batteries (not included).
The web site this is from,
eToys.com
, is real-- I shit you not. They even have a list of written testimonials from actual customers:

What could be more reassuring than that?