Stop Me When I'm Passing By
What the fuck's with those jerseys?
The Hartford Wolf Pack this week started to show signs of righting the ship, coming through with 5 points in 4 nights capped by a
2-1 win
against the
creamsicle-wearing
Sound Tigers in Bridgeport on Sunday.
Al Montoya actually stopped all 31 shots he faced in Sunday's game, with the Sound Tigers scoring an empty-net goal on a fluke play that came during a delayed penalty. From what I could gather while listening to the Chicken Hawk's call over the internet feed, Bridgeport's Drew Fata was called for roughing after hitting Bryce Lampman in the face. When Al Montoya skated to the bench for the extra attacker, Fata (a one-man wrecking crew, apparently) then hacked at Greg Moore's stick, sending the puck up-ice and into the empty net.
Not only is this something that I've never seen before but, according to Michael Fornabaio's
Soundin' Off
blog, "In Europe, that goal wouldn't have counted. The team about to be penalized can't receive credit for a goal."
Leading scorer Ryan Callahan saw his 5-game goal-scoring streak snapped, and Callahan was also jumped by long-time Pack nemesis Peter Ferraro (playing in Bridgeport because no one else wants him). Said
Quint
, who was at the game but probably failed to bring his camera, "Greasy Pete was up to his old behind-the-back crap. Callahan went after the slick-meister and tried to fight him. Pete turtled. Callahan failed to read the memo that Ferraro's don't fight, they just pretend to be hockey players."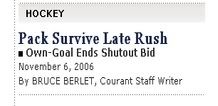 The headline for the game story in the Courant read "Pack Survive Late Rush", and-- having suffered through a couple of latter-day Rush albums myself-- I can surely sympathize.