We Are Not Alone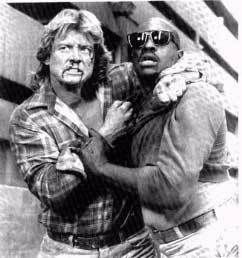 A while ago, just by accident, I discovered a blog site (
beanball.blogspot.com
) with a URL very close to my own (beanballinc. blogspot.com). The "other" site-- Bean Ball Blog-- has been dead for 3 years and was active for only a few months to begin with, but I was still amused to find that my blog had a long-lost relative-- a sort of "brother blog", if you will (even though the other blog kinda sucked).
I had forgotten about my "brother blog" until a few days ago, when I was at work and wanted to check out Jes Gőlbez' Hockey Rants blog (jesgolbez.blogspot.com), typing in
golbez.blogspot.com
by mistake. What popped up was kinda freaky (try it and see), and got me to wondering-- what other parallel sites to my favorite hockey blog sites are out there?
Post-Pessimist Association
(postpessimist.blogspot.com) -
post-pessimist.blogspot.com
P-PA's "brother blog" just started in October, looks pretty good, and even has a similar title... watch out, Greg!
James Mirtle's Hockey Blog
(mirtle.blogspot.com) -
myrtle.blogspot.com
,
murdle.blogspot.com
Not much going on here, though "Murdletrone" (What up bitches? Word) has that familiar James Mirtle writing style *heh heh*
Lubomir Vaic - A Life In Hockey
(lubomirvaic.blogspot.com) -
lubomir.blogspot.com
Suitably, Vaic Fan's brother blog is stark and vaguely suggestive
Red and Black Hockey
(redblackhockey.blogspot.com) -
redandblack.blogspot.com
Totally stupid, yet hilarious... looks like Sunday, December 23, 2001 was a bad day for this moron
Sweet Tea, Barbecue, and Bodychecks
(acidqueen.projectremains.com) -
acidqueen.blogspot.com
Another "Tommy" fan, apparently
CasonBlog
(casonblog.blogspot.com) -
cason.blogspot.com
心想,該不會是第三空間的情
Sisu Hockey
(sisuhockey.blogspot.com) -
sisu.blogspot.com
A complete and utter lack of follow-through
Lowetide
(lowetide.blogspot.com) -
lowtide.blogspot.com
Man, Blogger really used to look like shit
Vancouver Canucks Op-Ed
(vancouvercanucksoped.com) -
oped.blogspot.com
If you think "The Office" is funny, check this sucker out!
Ingmar Bergman Shoots and Scores
(bergmanscores.blogspot.com) -
bergman.blogspot.com
Obviously a case of misguided intentions. Man, does that template SUCK
Also, how many of you have ever seen Off-Wing Opinion's "back up" site on Blogger,
offwingbackup.blogspot.com
?