Who You Calling an "Ex-Leaf"??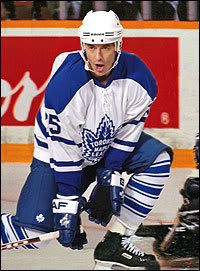 Actor Tom Cavanaugh (Photo: Russ Martin/The Star, thru JABS)
By now, I'm sure that some of you have seen the
story
about "Breakfast with Scot" (covered in
Can't Stop The Bleeding
,
Just Another Blog On Sports
, and elsewhere), a movie being filmed in Ontario about a gay hockey player and his lawyer boyfriend raising an 11-year-old boy together.
Here's how
TSN
in Canada posted the story: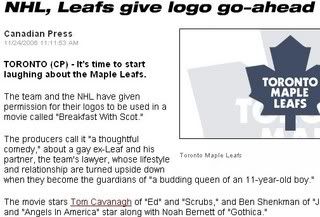 Unfortunately, the TSN story links to the TSN player profile of
Tom Cavanagh
, who plays in the AHL for the
Worcester Sharks
(note the one less "u" in his name) and who is neither an ex-Leaf nor gay as far as we know (though he does play for Worcester, so anything's possible).

The "other" Tom Cavanagh
Perhaps TSN should stick to curling or whatever else it is they cover up there; it's not like hockey is all that big in Canada, anyway.