You Better Shut The Oven, You're Wasting All The Gas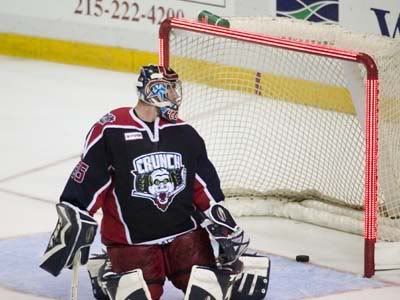 Syracuse's Ty Conklin, getting schooled as always
As if there wasn't enough reason to be bummed out by the forever rancid state of hockey marketing, now the Philadelphia Phantoms are experimenting with goal posts that light up.
Says the manufacturer,
Litnets
(link via
Scarlett Ice
), the goal nets "contain thousands of miniature light emitting diodes (LEDs) in the posts and crossbar that are triggered by the goal judge."
Actually, until I actually see this travesty in person, I'm not sure which is more ridiculous-looking-- a goal net that lights up, or "Phlex", the Philadelphia Phantoms' mascot: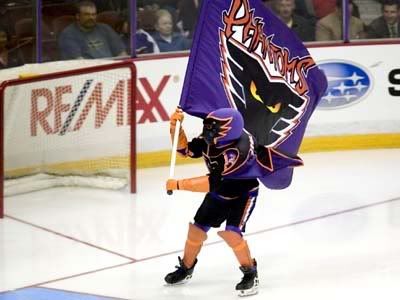 I guess there must be tons of people in the greater Philadelphia area who think it's cool to have a mascot dressed in what looks like something
Rev. Norb
used to wear.
Thanks to Mr. Guch for adding the superfluous red circle-- frickin' pea-brain! Duh!