Careers In Rock
That state fair gig in New Hampshire was awesome
Best random band name that I recently ran across on the
internet
:
Dïët Rïöt
(Playing light, all-acoustic covers of Quiet Riot songs)
Vinyl Mine
, being particularly useful, also notes that "email spam headers make for great band names." Here are some of my own that I came up with:


· Least the King
· Have the Tuxedo
· Aspatha
· They Fell An Ash
· Flock of Abner
· Samos
· Russell Crowe George
· Vexpert
· Fake Pills
· Goodness of The Priest
· Her No Rho
· Xepic
· Carcase Assembly
· From Damascus
That last one's just in time for the Sylvia Juncosa revival, I guess...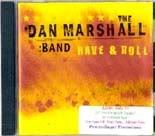 Also, the Bridgeport Sound Tigers
newsletter
tells us that current Sound Tigers head coach Dan Marshall plays guitar, and for years was in a blues-rock band called the Dirt Root Band (later known as the
Dan Marshall Band
, I guess after he got a swelled head about himself or something).
Even though the Dan Marshall Band managed to put out a handful of CDs, they were no
Zambonis
, I'm pretty sure.