Elvis is Everywhere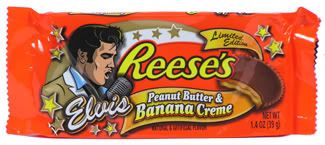 Image from Junk Food Blog via Ad Freak
AdAge
tells us that Reese's is announcing a limited edition Elvis Reese's Peanut Butter Cup, patterned after the King's favorite fried peanut butter-and-banana sandwiches, to be produced next summer in honor of Elvis having kicked the bucket 30 years earlier.
Notice that Reese's is avoiding the whole
Fat Elvis vs. Young Elvis
controversy by going directly with having a picture of the much-prettier Young Elvis on the wrapper, even though you can bet the soon-to-be-dead Fat Elvis would've scarfed these down a hell of a lot more frequently.
Rumors that Reese's is planning to launch a limited edition Dr. Nick's Percodan & Peanut Butter Cup to coincide with the Elvis Cups are considered false, however.