Fighting Walleye Rumor Confirmed
Logo created by Joe Bones - used with permission
...or at least it's been confirmed there's a well-traveled rumor that "Fighting Walleye" will be the team nickname of the Cleveland AHL franchise next season.
On Frozen Blog
leads the way, with this post from Dec. 4th:
Following the NHL's long tradition of spotty marketing, Cleveland's new AHL club (starting in the '07-'08 season) seems to be announcing its presence with similar lack of proficiency... The nickname of the club that will be continuing Cleveland's substantial American Hockey League legacy?

"The Fighting Walleye"

That's not a bunch of typos that randomly formed unrelated words. That's going to be the team's name. As much as we'd like to chalk it up as an accident, it can't be. There was deliberate thought applied. The club's owners took a patent out on it. There was paperwork involved.
A quick Yahoo! news search leads to a Dec. 5th
Winnipeg Sun
article. The article has since been shuffled off to the Sun's paid archives, but here's a quote from it:
FIGHTING WALLEYE?: Next season, the AHL is scheduled to return to Cleveland, with Cavaliers owner Dan Gilbert operating the dormant Utah franchise. Yesterday, message boards around the AHL were buzzing with news of a new nickname for the franchise.

Get ready for the Cleveland Fighting Walleye.

A quick search of the U.S. Patent and Trademark office website shows that Cleveland Hockey Holdings, Gilbert's hockey interest, had its application approved last month.
Indeed, you can go to the
U.S. Patent and Trademark office
web site, type "Fighting Walleye" into their trademark search, and here's what you'll find:
Word Mark: Fighting Walleye

IC 009. US 021 023 026 036 038 G & S: Audio recordings and video recording in the field of hockey... statistics or trivia about hockey; computer software, namely screen savers featuring hockey themes...

Publications and printed matter, namely hockey trading cards... reference books in the field of hockey, magazines in the field of hockey, catalogs featuring hockey, commemorative game and souvenir programs, paper pennants...
Blah blah blah, blah blah blah...
...Clothing, namely hosiery, footwear, shoes, sneakers, athletic shoes, T-shirts, shirts, polo shirts, sweatshirts, sweatpants, pants, tank tops, jerseys...

Toys, games and sporting goods, namely skates, goalie pads, hockey pucks, hockey gloves, hockey sticks, chest protectors for hockey... hcokey table top games, hockey board games
Wait, there's more:
Computerized on-line retail store, ordering, retail, electronic retailing, catalog and mail order catalog services featuring an array of hockey-themed merchadise... the production and distribution of radio and television broadcasts of hockey games... entertainment services in the nature of personal appearances by a costumed mascot and/or dance team at hockey games and exhibitions
Okay, you get the picture. The trademark application, which apparently costs a few thousand dollars to submit, is dated November 15, 2006, and is attributed to "Cavaliers Hockey Holdings, LLC, 1 Center Court, Cleveland Ohio 44115".
But just to spoil all the fun, along comes this Dec. 17th item in the
Cleveland Plain Dealer
(link via
Jerseys and Hockey Love
blog):
The current franchise still needs a nickname and accompanying logo. Cavaliers President Len Komoroski said broadcast reports that the team will be known as the Fighting Walleyes are premature.

"We've been getting a lot of suggestions, and we expect to have a nickname by the early part of 2007," Komoroski said.
Note that he doesn't say the rumors are wrong, exactly-- just that they're "premature", meaning "Wait 'til our press conference, dammit!"
Meanwhile, hockey fans in the Cleveland area (I think there's, like, seven of them) have been pulling their hair out over the potentially embarassing nickname. Much snickering has been heard from those individuals who seem unaware of the massively popular walleye fishing industry based around Lake Erie. Apparently, these people think that lake fishing is reserved only for people in Minnesota, or something.
Look at the bright side, though: at the very least, "Cleveland Fighting Walleye" brings to mind a robust, agressive, outdoor animal-- unlike one of the other possibilities that was left on the drawing board, the "Cleveland Crack-Smoking Walleye":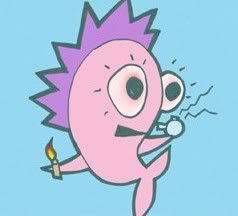 Of course, given the past history of Cleveland's cellar-dwelling pro sports teams, it's more likely that the Fighting Walleye will end up looking like this: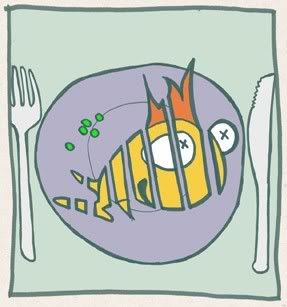 (Fish cartoon images from KarenAnn Charters via Ads of the World)