Heart of Darkness
Richmond Renegades (ECHL) '00-'01 Ryan Van Buskirk
St. Valentine's Day jersey
(Collector: stolidog1960-- click image to see back)
What you see here is something not of the ordinary, but the end product of an evil secret formula: taking an everyday hockey jersey and adding in a whole bunch of icky bad stuff (
hippies
, trick-or-treaters,
disco
, the State of Hawaii, Christmas, crap like that) in order to create a mutant strain known as the "one-game wonder" specialty jersey. Looking closely, you can actually see the jersey trying to fight off the malevolent virus that has taken over its very being, in a constant, heroic battle between good and evil. No, really, look.
In any case, here's another bunch of one-game wonder (and other) jerseys, picking up from the first two "ugly jersey" posts (
Would You Wear This Jersey?
and
That Dumb-Ass Sweater Isn't Getting Any Better
). I have still more "ugly jersey" photos stashed away besides the ones you see here, enough for at least another post or two, so if ugly isn't really your thing then try to stay away from any
Don Mossi
baseball cards, please.
Might as well start things off with a couple of really, really bad ones: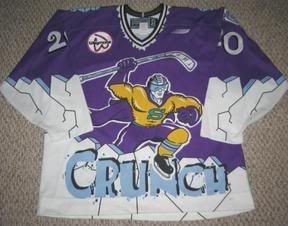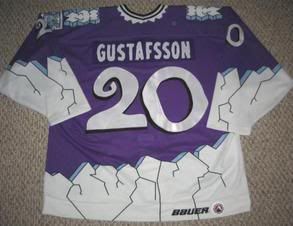 Syracuse Crunch (AHL) '980'99 Marcus Gustafsson
alternate jersey
(Collector: woody_6)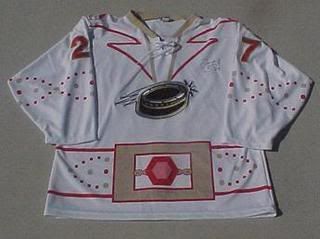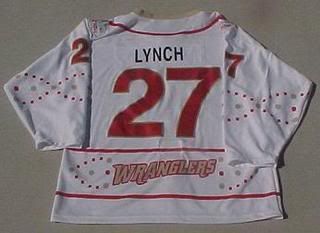 Las Vegas Wranglers (ECHL) '04-'05 Darren Lynch "Elvis" jersey
(Collector: made2bworn.com)
Actually, the St. Valentine's Day Renegades jersey shown at the top looks practically elegant compared to some of the other bleeding eyesores the team has come up with: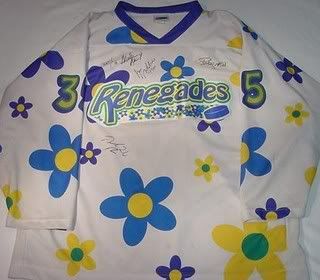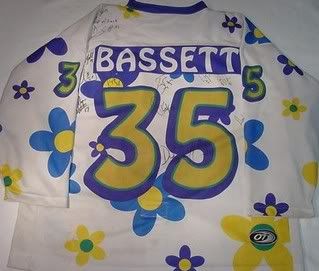 Richmond Renegades '99-'00 Dennis Bassett "Spring" jersey
(Collector: stolidog1960)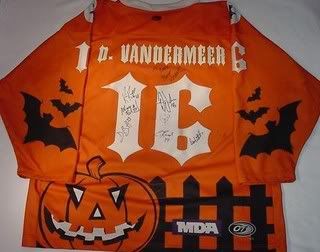 Richmond Renegades '99-'00 Dan Vandermeer Halloween jersey
(Collector: stolidog1960)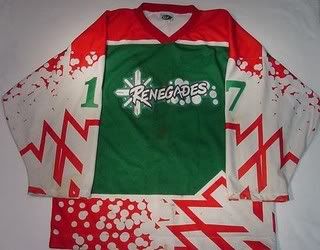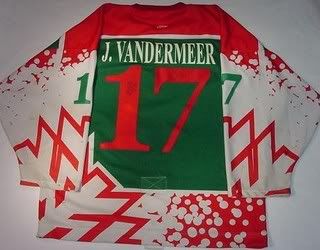 Richmond Renegades '99-'00 Joe Vandermeer Christmas jersey
(Collector: stolidog1960-- My God, man!)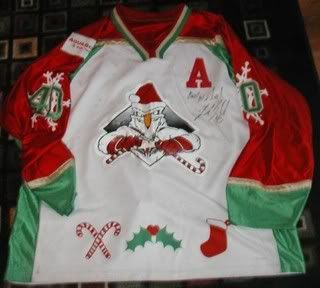 Adirondack IceHawks (UHL) '99-'00 Francois Sasseville
Christmas jersey
(Collector: treblecharger133)
This one actually isn't all that bad, except for the confetti stripe across the front: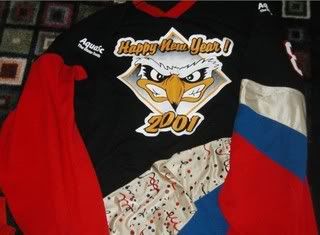 Adirondack IceHawks '00-'01 Bryan Duce New Year's jersey
(Collector: treblecharger133)

I've already said that European jerseys are off-limits, since they're so universally weird-looking that the list would never end. However, this one deserves special mention, because it features Bill The Cat: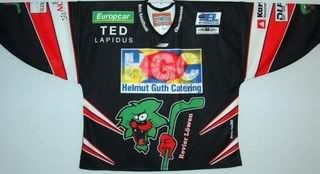 Revier Loewen Oberhausen (Germany) Alexandrs Kercs jersey
(Collector: mcmetzen)



Ack!
One more European jersey-- a ref's jersey, too, for good measure, meaning it deserves your scorn: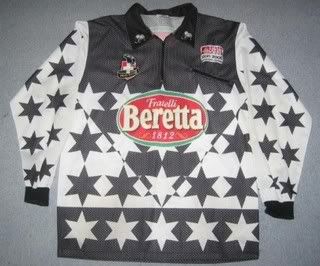 Swiss NLA "Nationalliga A" linesman's jersey
(Collector: gopher_88)
Memphis RiverKings (CHL) Brad Mueller Christmas jersey
(Found on e-Bay)
Jacksonville Lizard Kings (ECHL) '95-'96 Todd Reirden jersey
(Collector: skedcentral.com)
Pity poor Lexington, Kentucky: first, their AHL team skips town; then they get an ECHL team that closes up shop after one season... plus, to top it all off, when the ECHL team was still around, they hit the ice wearing jerseys that looked like this: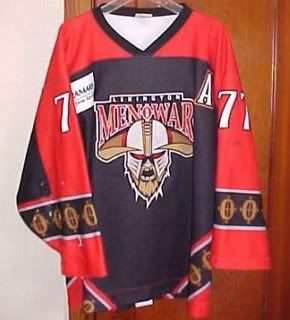 Lexington Men O'War (ECHL) '02-'03 Joe Vandermeer jersey
(Collector: richmondrg)
There's something about that logo that seems really familiar...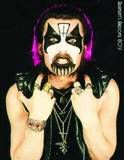 Yes-- that's it!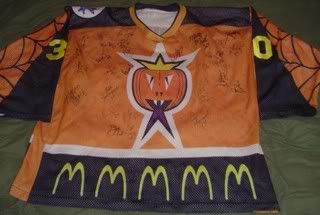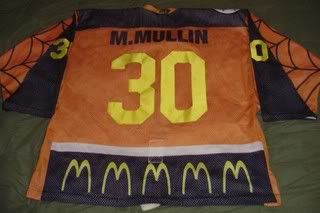 Jacksonville Lizard Kings '97-'98 Matt Mullin Halloween jersey
(Collector: schurla27)
I've been subject to a small amount of ribbing for saying that I like the Vancouver Canucks' Duraflame Log "V" jersey better than their "Skates" one... what I have to say to that is, try telling me
this
jersey doesn't look like a freakin' migraine headache: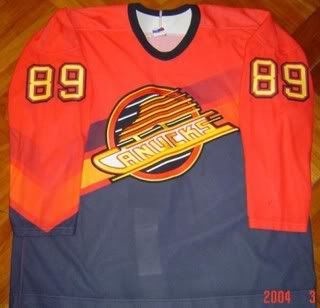 Vancouver Canucks (NHL) '96-'97 Alexander Mogilny alternate jersey
(Collector: aubohk)
In the previous "ugly jersey" post, I included some photos of the "exploding chicken" jerseys that the Portland Winter Hawks wore one season-- although the photos were grainy still shots taken from a video. Since then, the owner of the web site that I lifted the photos from was gracious enough to send along some better photos from his own private collection:
Portland Winter Hawks (WHL) '00-'01 Travis Mitchell
25th Anniv. Saturday jersey
(Collector: The Vaughn Street Collection)
Mobile Mysticks (ECHL) '99-'02 Josh Harrold "Margaritaville" jersey
(Collector: Hockey-Love.com)



A close-up view of the shoulder logo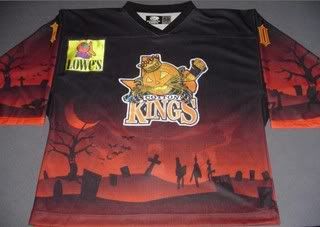 Lubbock Cotton Kings (CHL) '03-'04 Jim Shepherd Halloween jersey
(Collector: schurla27)
Lubbock Cotton Kings Derek Holland "Hawaiian" jersey
(Collector: schurla27)
Circa '01-'04
Additionally, I've got a couple of photos of a San Francisco Spiders (IHL) tie-dye jersey, along with game socks (!), which need to be seen to be believed. The photos are from dropthepucks.com, but their web site has a severe-looking "nothing may be reproduced without written consent" warning on it. Since I'm not looking to incur anyone's wrath right now, I'll just link to the photos:
SF Spiders '95-'96 tie-dye jersey (front)
SF Spiders '95-'96 tie-dye jersey (back)
Well, maybe they won't get all pissed off if I show just a peek:
For a look at some more SF Spiders jerseys, check out
HockeyJimm.com
, which is one of the best private collector sites that I've seen. Luckily, nearly all of the collectors I've since had a chance to swap e-mails with, as a result of these jersey posts, have been very friendly and encouraging, and Jimm is one of those collectors. Jimm also passed along stories of a couple of "ugly jerseys" that I haven't been able to track down photos of yet: a Louisville Riverfrogs (ECHL) Christmas jersey from about 10 years ago that the players nearly refused to wear, finally settling on wearing the jerseys during the pre-game warmups; and a Columbus Chill (ECHL) "Sonny & Cher Night" jersey.
These are what the regular
Columbus Chill
jerseys looked like: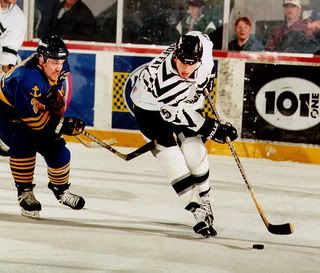 (Photos from betterimage.com)
I can only imagine how bad their specialty jerseys looked-- like
Moose Skowron
on a bad day, perhaps?