Holy Testicle Tuesday!
"Track The Pack" (the Wolf Pack e-newsletter) called it "Transaction Tuesday": yesterday, the Rangers called up Jed Ortmeyer and Bryce Lampman from Hartford, while sending down Brad Is-a-Buster. Meanwhile, the Wolf Pack
brought up
Mark Lee, Zdenek Bahensky, and Ryan Constant from Charlotte.
Lee, a 22-year-old native of Newfoundland, has been enjoying a pretty good season with the Checkers so far, posting 12g and 27a for 39 points (good for third in the ECHL) in 28 games. Judging by their playing styles from when they were in Wolf Pack camp this pre-season, both Lee and Constant should provide some much-needed energy and intensity for the Wolf Pack, even if only temporarily, as the Pack have entered a stretch of 5 games in 6 nights starting with last night's game in Worcester.
Harford at Worcester, 12/26/06 (Photo: Pack Attack)
All three Charlotte call-ups played in the game against Worcester, a
2-0 victory
, with Al Montoya registering his first shutout of the season.
The win against the Sharks moved the Wolf Pack to within three points of 4th place and a playoff spot in the division, for the time being.
Unfortunately, the Pack
lost
in Springfield earlier tonight, 3-1.
There is still one bit of good news: Montoya's rare shutout on Tuesday means that
JokerTom
has to get a haircut.
UPDATE 12/28 -
Speaking of haircuts, Pack Attack adds to my already sparkling Wolf Pack/Falcons game coverage (that one line, above) with a photo of everyone's favorite
lost-in-the-70's
in-game MC, "Shaggy":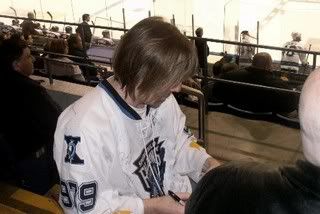 Shaggy is seen here signing an autograph at last night's game. Apparently it doesn't take much to be a celebrity in Springfield.