One Weak Wolverine
Jim Schoenfeld getting his fuck-off on (Chris Rutsch photo)
A rusty and befuddled-looking Al Montoya left the gate open too many times last night, pissing away a valiant three-goal comeback mounted by the Wolf Pack in the second period, and Hartford saw the end of their 5-game win streak with a
6-4 home loss
to the Lowell Devils on Saturday.
Not coincidentally, the Wolf Pack stood by Steve Valiquette almost exclusively in net while they were running off their five straight victories. Prior to last night's game, the only other time Montoya had seen any game action since being pulled in two straight starts back in late November was in a 6-5 overtime victory over Worcester two weeks ago, a game during which Montoya made almost no saves of any consequence.
Nigel Dawes (Chris Rutsch photo)
Down 2-0 to Lowell after a listless first period, followed by a third goal by the Devils two minutes into the second period to make the score 3-0, the Wolf Pack offense suddenly found some life, thanks in part to three straight power play opportunities given to them by the Devils. Ryan Callahan and Nigel Dawes each missed great scoring opportunities-- Callanah even had Devils goalie Frank Doyle down on the ice and still missed the open net-- before Hartford finally got on the board, on a power play goal from Brandon Dubinsky that seemed to deflect off the back of Devils defenseman Scott Lachance's skate on its way to the net. Two more golden scoring opportunites for Hartford again went ary after that, but the Pack kept applying the pressure. 13 minutes into the second period, Doyle left a rebound hang in front of the crease after a shot by Francis Lessard, and Dane Byers charged in to jam the puck home.
Things got very interesting with a couple of major penalties mid-way through the third period. First, Dave Liffiton took a stick to the face from Lowell's Aaron Voros right in front of the Hartford bench, a penalty that referee
Chris Chimichanga
missed. Liffiton fell straight to the ice, then threw both his gloves off. Hartford coach Jim Schoenfeld flew into a rage as play continued, repeatedly banging a stick against the boards until the stick broke (I didn't see this part). Eventually the linesmen got Ciamaga to make the right call-- a 5-minute cross-checking major and a game misconduct against Voros, though with Schoenfeld drawing an unsportsmanlike minor of his own.
Seconds later, at 7:02 of the third, Ryan "Who Da Man" Callahan tied the game at 3-3 on a beautiful give-and-go with Greg Moore (though the
official scoresheet
credits Dan Girardi, so maybe I've got it wrong). The goal was Callahan's 17th of the year, extended his goal-scoring streak to 6 straight games, to go along with a 5-game streak he had earlier in the season.
Four minutes after that, though, Francis Lessard drew a boarding call that I was pretty sure deserved a five-minute major, though Lessard whined about it later in the paper ("He fell and hurt himself, so I looked bad"). Lessard lined up Lowell's Tomas Harant right between the numbers and bounced Harant a good four feet into the end boards from behind-- though it was a good sturdy check, I can say that much.
Not even 40 seconds later, Montoya gave up his worst goal of the night, on a waist-hight shot by Justin Papineau that Montoya merely olé-ed with his glove hand as it whistled past him. It was a totally weak effort on Montoya's part, sucking all of the air out of the arena and killing off any of the momentum that the Wolf Pack had just spent 20 minutes building. Lowell would score one more time before Lessard's major had finished, making the score 5-3.
Dwight Helminen brought back some hope when he found the net through heavy traffic with 20 seconds left and an extra attacker on for Hartford, but moments later Lowell sealed it on a empty-netter after rattling the puck around in deep for a while, and with I think either Ivan Baranka or Dan Girardi standing in the Hartford net trying to serve as goaltender.
The game was a "Guaranteed Win Night" promotion by the Wolf Pack, meaning everyone gets to trade in their ticket stubs for a free ticket to Wednesday's game against Philadelphia. Also, Saturday's game featured an "appearance" by Wolverine, from the X-Men: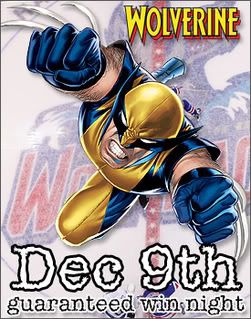 Unfortunately, the guy in the Wolverine costume was only about 5'-7", so overall he looked hardly more menacing than the Rev. Norb version of Wolverine:
But the weakest Wolverine of all?
Image swiped from Trains on TV blog