This Speech Is My Recital
I regret the day I stole your Quiet Riot record
Since I'm all about ugly jerseys lately, I figured I'd share something I just found the other day using a Google search. It's from a free video news site called WatchMojo.com, and this is their video segment on the 10 Ugliest NHL Jerseys of All Time:
Click to launch
Each of the jerseys is unveiled one at a time, so after the 10th jersey has played, you have to scroll down to click on the list again to see the 9th jersey, and so forth. I won't ruin the surprise by just printing the list of jerseys here, since Mojo obviously went through a lot of trouble to heighten the suspense for everybody.
The list itself isn't very remarkable, save for the puzzling enunciation of the arrogant narrator doofus describing the jerseys; instead of just talking (which seems to be a problem for him anyway), the guy in the video tries to act out nearly every word with his face. To amuse myself, I started hitting the pause button just to see what stupid expressions would pop up by chance: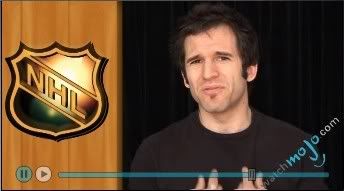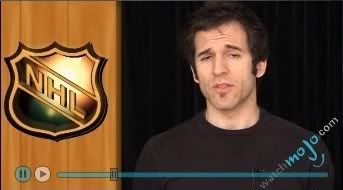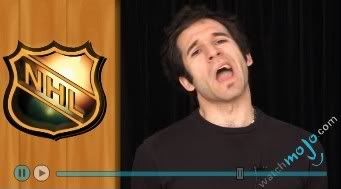 Try it yourself
and see!