Darius Kasparaitis: "Wanna say something? Here I am. Shoot."
Darius Kasparaitis (New York Magazine photo)
The season for the Hartford Wolf Pack began to turn around when, after a rough 1-6 start, Darius Kasparaitis joined the team for a 7-game conditioning stint in early November. Kasparaitis' leadership by example paid immediate dividends starting with his first game with the Pack, in which Kasparaitis
laid out Portland's Tim Brent
with a clean, devastating hip check that sidelined Brent for weeks. After recording one win for the entire month of October, the Pack won 3 games in the 10 days that Kasparaitis was with the team, beginning their climb back to respectability. Hartford now stands at 20-16-3-0 and is in second place in the division.
Earlier this week, though, there was a profile on Kasparaitis that ran on
NHL.com
that included this quote, talking about his stint in Hartford:
"I think I was the funniest guy in the locker room. I had so much fun. I was kind of shocked the guys were so down and so ticked off at everything. I just told some young guys, 'You gotta work hard. You can't let yourself sit there and be feel sorry for yourself. You gotta get mad and try to work every single game.' Don't look at the guy next to you. Maybe he doesn't want to play in the big leagues. But if you want to be there you have to give everything. You can't give up just because you're in the minors."
A number of worn-out message board pundits used this quote in order to pass judgement on the state of the Wolf Pack locker room and the mindset of the Pack players, but more likely it was just Darius being Darius, with his usual brutal Lithuanian candor.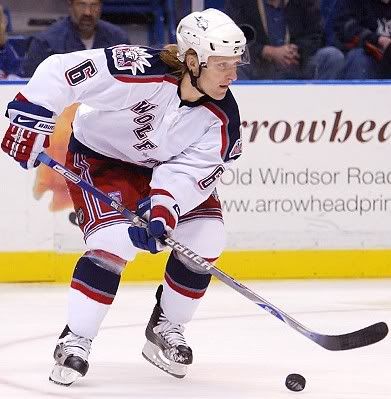 Kasparaitis with the Wolf Pack (Heather Rutsch photo)
Kasparaitis gave more of his up-front observations in an interview that appeared on the
Sport Express
web site earlier today (dated 1/13/07).
Talking about his reduced role with the Rangers at the beginning of the season, Kasparaitis said:
"I don't think the surgeries were the problem; it was more about the decision of the coaches. Even before the season started, they had somehow already planned to move me to the side. True, at the beginning of the season I wasn't at my best form, but now I'm playing well again. I've gone from a -6 to a -1, and I've even scored two goals.
"However, the time I spent in the minors reminded me that everything can change at any moment. I won't deny that being demoted was embarassing. The whole affair left me with a bad taste, since I felt it was an insult. What I had to do, though, was realize that no one was going to feel sorry for me because of my past accomplishments, and to make myself work harder."
Kasparaitis also talked about the radio commentary and newspaper writing that he has done on the side, including some stuff that he had written about Mark Messier during the end of Messier's time with the Rangers:
"I was ruthless regarding Messier during his last two seasons here, although to this day I consider my criticism warranted. I believed that he was unjustifiably being given large amounts of playing time, to the detriment of the team. In one column that I wrote in the middle of his last season, I said that of all of the Rangers' problems, the biggest one was the presence of Messier. I listed all of the games in which he had more ice time than any of the other forwards, and compared their productivity. After that, you can easily understand, the relationship between us was stressed, to put it mildly."
About his tendency to speak his mind and the reactions he gets for this, Kasparaitis says: deal with it. "If anyone wants to say something to me, go right ahead-- here I am. Shoot."
When Kasparaitis was asked to name the three worst player acquisitions by the Rangers in the time that he's been with the team, Kasparaitis said that the worst was "Theo Fleury, without a doubt." Kasparaitis went on to say that, besides Fleury's well known off-ice problems, Fleury was at the top of a long list of veterans on the Rangers who weren't helping the team.
Kasparaitis says, "The club didn't raise a finger in one way or another to solve this situation. There was a long list of veterans on that team who weren't applying themselves, to which no measures were taken. Team discipline was completely absent. It took the team's management two years to recognize the situation, by trading some of these stars for younger players and starting to rebuild."
As for the rest of the acquisitions on the list, Kasparaitis said:
"Who else? Scott Fraser. A terrible nightmare of a player-- not only lazy, but stupid. Here the Rangers go and sign him after he had one good month in Edmonton. I don't mind saying it again-- a disgusting hockey player! Who else? Igor Ulanov. Horrible acquisition. Dave Karpa-- total fiasco."
(That's "Дэйв Карпа - тотальное фиаско", for those Rangers/Wolf Pack fans who want to laugh at it in the original Russian, also).
Kasparaitis went on to add, "Then there were other case where good players joined the Rangers, and nothing came of it. Take Bobby Holik, who at the time was the best defensive forward in the NHL. Who knows why they brought him over, because the head coach never tried to use him properly, thus wasting his talents."
Lastly, about Jaromir Jagr's leadership style:
"Jagr is an exceptional captain. He is not one of those captains who will make grand lockerroom speeches. Jaromir will never stand up in the room and jab his finger into someone... that is not the kind of person he is. His value as a captain is the way he plays, the fact that he will take punishment in every game.
"The role of the person who (gets in the faces of other players) falls to Brendan Shannahan, and I don't see a problem with the leadership roles being distributed in that way."