Help A Brother Out
Chris Rutsch photo
The Hartford Wolf Pack peppered Manchester's Jason LaBarbera with 61 shots last night, nearly half of that total in the third period alone, but couldn't get him to crack, as the Monarchs
downed
the Wolf Pack in overtime, 3-2.
cripes
The Monarchs have now opened up a 6-point lead over everyone else in the Atlantic, in what is still a close race where every team in the division is over .500 except for Providence, who have lost 8 of their last 10.
Al Montoya took the loss for the Wolf Pack, ending his 5-game win streak. Neither the Monarchs' first goal or the overtime winner were completely Al's fault, as both came on back door-type plays that would've been nearly impossible for him stop. Al was also the victim of some crappy defensive plays along the way, and although the Wolf Pack played as tight defensively in the first period as I've seen them play all year, that sorta went away towards the second period.
Dane Byers usin the ol' elbow (Chris Rutsch photo)
Dan Girardi, the Wolf Pack's top-scoring defenseman with 19 assists, finally got his first goal of the season, on a muffin that slipped under LaBarbera's pads and trickled into the net. Dane Byers scored the other Wolf Pack goal, which tied the game up at 2-2 with 7 minutes left in the third period and sent the game into overtime. Byers had yet another good game (a goal and an assist, 7 shots on goal), and you can expect the Dane Bandwagon to start very soon among Rangers fans, if it
hasn't already
.
Francis Lessard fought the Monarchs' Mike Hoffman in the first period, and I seem to remember the two of them fighting in pre-season training camp as well, when both of them were trying out for the Rangers. Anyway, Lessard tore Hoffman apart in this one, popping him in the head a few times and then slamming him down to the ice for good measure.
Ryan Callahan mixing it up with Noah Clarke (Heather Rutsch photo)
Ryan Callahan also picked a fight in this game, duking it out with Noah Clarke near the Monarchs' crease early in the second period after Clarke had wacked Callahan with his stick and gave him a shove to keep him away from LaBarbera. Callahan might also have been reacting to all of the extra defensive attention he's been getting lately, a result of him having 22 goals before anyone else on the team had even reached seven.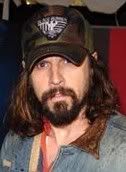 In all-important celebrity and entertainment news, Rob Zombie was at the game, sitting on the glass with his wife a couple of sections over from where I was. I totally owned "Pig Heaven" (first press, even) and "Psycho-Head Blowout", but that's about as much as I'll admit to.