Let Merv Griffin Work Out The Details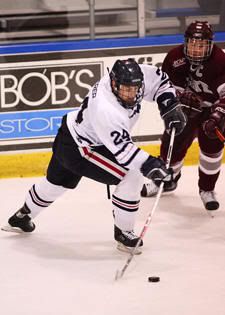 UConn senior captain Matt Scherer
Matt Scherer, the leading points-getter on the UConn hockey team this season, appeared on ABC's "Who Wants To Be A Millionaire" yesterday and won $25,000 after answering the first ten questions correctly.
Scherer, who also stands as UConn's all-time leader in goals scored (52 in 123 games), needed to use one of his lifelines in order to correctly answer a Will Ferrell question (wouldn't we all?).
Anal Bum Cover! Yes!
For a nearly complete question-by-question run-down of how Scherer did,
click here
.
My apologies to anyone reading this who had forgotten about "Who Wants To Be A Millionaire" and didn't realize that it was still on the air.