Elvis Is Watching
...and he doesn't want anyone to get hurt.
(Photo found at Not For Hire blog. I think the guy from the blog took the photo himself.)
(Photo: Rich Stieglitz/Bgpt Sound Tigers)
Meanwhile, the Hartford Wolf Pack took on the Creamsicles in Bridgeport yesterday and
won, 5-1
, to finish out their second straight undefeated weekend. Al Montoya has now allowed only 9 goals in his last 7 starts, and the Wolf Pack have won their last six in a row by a combined score of 26-6.
Oh, and cool it with the fighting, everyone. Remember-- Elvis is watching.
UPDATE 2/27 -
Click on the photo below to watch the Fox 61 Sports highlights on the Sound Tigers - Wolf Pack game, including video of the fight between Jason Pitton and Jake Taylor: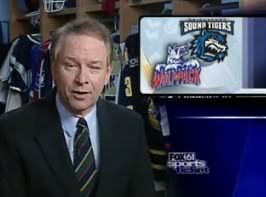 You didn't think I was serious about the "no fighting" stuff, did you? Geez!